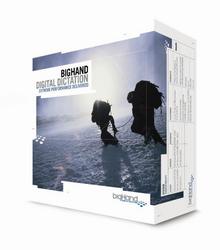 Best of Breed System of the Year
London, UK (PRWEB) July 4, 2008
BigHand has today announced the firm wide rollout of its digital dictation workflow system to Carson McDowell, one of Northern Ireland's leading law firms. The firm upgraded from tape dictation equipment to the leading digital dictation workflow system, and has since reported an increase in lawyer and secretary productivity. In the current economic climate, Carson McDowell highlights the necessity for firms to maximise the efficiency of existing resource, in order to achieve both revenue growth and cost savings.
Prior to selecting the 'Best of Breed' legal technology system for 2008, Carson McDowell's investigation into available digital dictation workflow systems led them to research a number of providers. BigHand was found to dominate competing solutions, both in terms of the product's technical superiority, and crucially the knowledge and professionalism with which BigHand people implement its technology.
Roisin Mullan, IT Manager at Carson McDowell comments:
''Feedback from within Carson McDowell was immediately very positive. Working practices are similar, but with the advantage of now creating more manageable bite size chunks of dictation. We have moved from having lengthy tapes to being able to see what is urgent, which dictations can be picked up in 5 minutes and which need to be planned for. Both fee earners and secretaries at Carson McDowell have benefited from the workflow element of BigHand; work is being turned around much faster than we could achieve with tapes.
The IT team at the Firm has been hugely impressed by the BigHand product, and the enthusiastic team that worked so closely with us. Throughout the project, from sales to rollout, we were confident of being in safe hands. Everything that was promised happened exactly as discussed, and in accordance with our timescales. A key advantage of working with such an established developer is the scope of their offering, for example BigHand provides round the clock technical support. As an IT Manager, this provides total peace of mind.''
About BigHand
A Microsoft Gold Partner & BlackBerry ISV Partner based out of Chicago, London, Sydney and Toronto. BigHand is the leading digital dictation vendor in the global professional services sector, maintaining the five largest sites at international law firms and with more legal installations in total than all other suppliers combined. BigHand3 was awarded "Best of Breed System of the Year" at the Legal Technology Awards for 2008, and nominated as 'New Product of the Year' at the LTN Awards 2008. BigHand was named as the fastest growing legal software developer in The Sunday Times Microsoft Tech Track 100 league tables for both 2006 and 2005. BigHand was also recognised by Deloitte as one of the 500 fastest growing software vendors in Europe in 2006. Additionally BigHand was voted "Best Legal Office Technology System 2004" from votes from over 14,000 lawyers and IT managers across the legal sector at the LOTIE Awards. BigHand's leading product also won the Society for Computers & Law IT Award in 2003 for "the most outstanding application of information technology to the law".
###