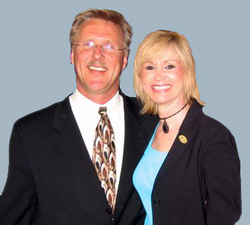 Dallas, TX (PRWEB) July 4, 2008
The Lampe Team will hold its West Coast Regional Success Seminar for its insurance agents July 8, 9 and 10, 2008 in Ontario, California, and an Opportunity Meeting for those interested in learning about becoming agents, the evening of July 8. With insurance agents covering 37 states, the Lampe Group is an affiliate of National Agents Alliance - NAA, a leading insurance marketing company that protects American families' financial assets, especially their homes.
NAA already is the nation's largest seller of mortgage protection insurance, and the Lampe Group its fastest growing Master Agency. In addition to mortgage insurance, NAA is becoming a significant marketing force in the life insurance and annuity industry. Through it's thousands of independent insurance agents, it markets a wide range of term life, universal life, and annuities from some of the most highly rated insurance companies.
The Lampe Group's Three-day Regional Success Seminar will focus on teaching its proven and proprietary methods to quickly make its new insurance agents successful -- not in months or years, but within a few weeks - as well provide refresher training for its seasoned pros.
"Rapid and effective insurance agent training and mentoring on our proven system is really critical to get our agents to quickly earn money," says Bill Lampe, CEO of the Lampe Group." Unlike other insurance marketing firms, we continue to have a growing number of excellent leads and need agents to close them. That's why none of our insurance agents have to make cold calls, and usually spend 90 percent of their time closing sales, not prospecting for leads. Not having to make cold calls is a huge incentive for licensed insurance agents, and those who want to be insurance agents, to join our group."
"Much of our success and the extraordinary success of our insurance agents," continues Bill Lampe, "is because of the extensive ongoing training and mentoring we provide our agents at no cost. This seminar is one of many training and development opportunities we provide our insurance agents throughout the year."
The Regional and Local Seminars supplement the free training its insurance agents receive at the Lampe Group's Training and Development Center in Dallas, Texas. In addition to face-to-face training, the Lampe Group provides its insurance agents with its Fast Track exclusive Internet-based comprehensive knowledge base and a wide range of weekly teleseminars, as well one-on-one insurance agent mentoring, and agent manager education.
"Couple this with the wealth of services and products NAA provides," says Mr. Lampe, "and you'll see why it's is not unusual for many of our agents to earn over $100,000 their first year. In addition, we have trained and promoted the largest number of Insurance Agency Managers in a single year in National Agents Alliance history. Managers have their own insurance agencies and within a year or two can earn high six figure incomes, or more."
Licensed insurance agents, and individuals not yet licensed, who want a career in a high growth company that protects families financial assets are encouraged to visit the Lampe Group's to learn about the company. At the web site they can set up a confidential no-obligation phone appointment with Bill Lampe to qualify for free insurance agent training and mentoring.
For licensed insurance agents and those interested in becoming agents, an Opportunity Meeting will begin at 7:30 pm Tuesday, July 8, 2008 at the Ayres Hotel and Conference Center, 1945 East Holt Boulevard, Ontario, CA.
###