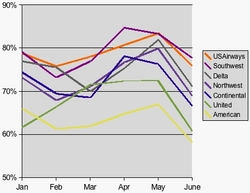 Portland, OR (PRWEB) July 8, 2008
FlightStats today released its June 2008 airline and airport on-time arrival performance reports for North American airports, the world's 50 busiest airports, US airlines and major European airlines.
US Airlines Report Summary
In the US, on-time performance dropped sharply compared to May 2008 with many US carriers showing a 10 percentage point drop in on-time arrivals. American Airlines dropped below the 60% on-time percentage mark and United performed only slightly above 60%. Cancellations are also on the rise again after falling steadily earlier in the year.
Smaller and regional carriers outperformed the major airlines. Hawaiian, Horizon, Frontier, Sun Country and Mesaba all performed at or above 80% on-time arrivals. Among the largest US airlines, USAirways is giving perennial on-time leader Southwest a serious run for its money. Each has lead the majors in on-time performance 3 of the last 6 months.
Download the US Airline on-time arrival performance report for June 2008
North American Airports Report Summary
Getting planes to the gates on time proved very challenging at Chicago O'Hare, Newark, New York JFK, and New York LaGuardia. Passengers' chances of arriving on time at those airports in June was less than 60%. JFK's performance slid backwards to 58% on time performance after 3 months of steady improvement and breaking through the 70% on-time barrier in May.
Salt Lake City (82.38%), Memphis (80.92%), Phoenix (79.18%), Portland, OR(77.9%), and Charlotte (77.31%) were the top performing North American airports in June. Vancouver was tops among Canadian airports at 76.14%.
Download the report on North American airport arrival performance
Top 50 World Airports Performance Report Summary
The seasonal drop in US airline and airport performance kept all US airports except PHX (Phoenix, AZ) out of the top ten. The US does dominate the cellar though with the three major New York airports along with O'Hare bringing up the bottom, all with on-time arrivals below 60%. Tokyo Haneda, Tokyo Narita, Bangkok, Singapore along with Paris Orly continue to set the standard with over 80% on-time arrivals.
Download the reports for the ACI/IATA top 50 World Airports
European Airlines Report Summary
SAS and KLM and their subsidiaries SAS Norway and KLM Cityhopper occupied four of the top ten slots in European airline performance in June. Bottom dwellers include Bmibaby, Aer Lingus, Meridiana, Olympic, and Aegean, all below 60%, some way below 60%.
Download the reports on European carrier arrival performance
About FlightStats
FlightStats is an airline, airport, and travel information service provided by Conducive Technology Corp. On our Web site visitors can get flight status, track flights, view on-time performance ratings by flight or by airline, check for current airport delay and weather information, and much more. All services are freely accessible to site visitors and many services are available as widgets for installation on other web sites. FlightStats provides global flight status information and is the definitive source for historical airline performance data. Conducive Technology is also a leading supplier of air travel information services to travel agencies, logistics professionals, airlines, airports and industry analysts.
# # #