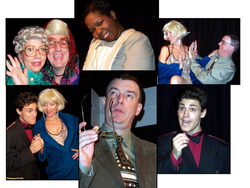 Indie films, music and books have become surprisingly popular in recent years, while maintaining their artistic leadership
New York, NY (PRWEB) July 5, 2008
Just as in recessions past, Americans appear to be embracing the escapism that entertainment and theater provide. To prove that point, The Broadway League recently released theater ticket sales figures showing a jump in summer ticket sales for theater events in New York City, even exceeding same-week sales in 2007.
A rising tide, they say, floats all boats, and New York's independent and off-Broadway productions are also seeing a renewed interest from travelers and locals alike. Tourism in New York is down overall for 2008, but attendance and pre-booking for performances are strong. As theater fans tighten their belts and seek affordable options at lesser-known venues, they're rewarded to find innovative new work at smaller venues.
One of these up-and-comers is Fn Productions, which kicks off their new off-Broadway comedy play "Suite Atlanta" on July 10 at 78th Street Theatre Lab. Frank Blocker and Sydney Stone are the founders of Fn Productions, and are two of the four actors who portray a dozen characters in the Southern deep-fried comedy play.
"Indie films, music and books have become surprisingly popular in recent years, while maintaining their artistic leadership," said Frank Blocker, writer of the show. "It's great to be uplifted in a surge of appreciation for indie theater, which is the next logical sector of growth. Off-Broadway is often associated with extremely edgy or abstract theatre, but that's not always the case. Suite Atlanta is very accessible to mainstream audiences. It's a purely fun romp with a dash of politics sprinkled in, written in the style of Neil Simon so it's perfect for summer."
At significantly lower ticket prices (advance tickets for Suite Atlanta are only $20), indie plays help theater fans fill up on the cheap. Attendees to these more intimate encounters often feel closer to the action, as if they were behind the stage instead of in front - one of the perks of supporting independent theater.
"We often invite the public to our working productions, and we participate in public readings of scripts we're testing for future performances," said Sydney Stone. "As artistic director of Fn, I love having the control to program whatever we agree is appealing to us and to our audience, and incorporating what is relevant at this moment in their lives. Getting that interaction from our fans and audiences is priceless."
Tickets for New York Off Broadway show "Suite Atlanta", which runs July 10-26, may be purchased at the door or online at http://www.fnproductions.org.
###