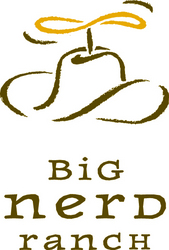 Frameworks based on powerful scripting languages are currently all the rage for rapid Web application development
Atlanta, GA (Vocus) July 8, 2008
Do You Django? Django Bootcamp at the Big Nerd Ranch October 6-10, 2008.
In today's economy, staying ahead of the game can make or break a developer's ability to remain successful. For Web developers especially, having a full range of skills at the ready to create ever faster, more sophisticated and, above all, stable Web sites is key. Django, which leverages the power of Python, is one of those skills that savvy Web developers need to boost their ability to deliver high quality websites to clients. Big Nerd Ranch, Inc., premier provider of intensive, week-long training classes for Web developers, programmers and system administrators, fills that need with Django Bootcamp, October 6-10, 2008.
This Django training class was designed by experienced instructor Juan Pablo Claude to target a range of needs, including developers who not only want to learn Django for developing Web applications, but also for those who want to use Django to create applications for Google's AppEngine. It also provides an excellent training opportunity for Web designers seeking to enhance their skills using server-side technologies and Python programmers developing Web services.
"Frameworks based on powerful scripting languages are currently all the rage for rapid Web application development," commented class instructor, Juan Pablo Claude. "Django was definitely developed to allow websites to be created and deployed quickly. Early adopters of this formidable tool have frequently been newspapers that need a robust, quick framework that allows them to put dynamic content on the Web fast. Since then, more organizations are realizing the impact Django can have on their Web presence. While Django certainly made a splash when it was introduced, its long-term growth is set to explode."
While Python forms the backbone behind Django, those attending the class do not need to have Python experience to reap the rewards of the Django course; however, some background in object-oriented programming and HTML is a must.
Students completing the class can expect to be able to:

Deploy a Django application using mod_python or FastCGI and Apache and maintain it using -Django's admin system
Write applications that use PostgreSQL, MySQL or SQLite databases
Create secure applications with robust user authentication and session data
Use Django's powerful template system and newforms library for easy form processing and data validation
Implement AJAX solutions using Django
Create web services using Django and understand the Django capabilities of the Google AppEngine
The Big Nerd Ranch incorporates intensive training classes for Unix and Mac OS X programmers in a retreat setting outside Atlanta, GA. Class price of $3500 includes lodging, all meals, original instruction materials, 24-hour lab access, and transportation to and from the Atlanta airport. Students are encouraged to bring independent projects to class, allowing for input from classmates and individual instructor attention. For more information, call 678-595-6773 or visit bignerdranch.com.
###