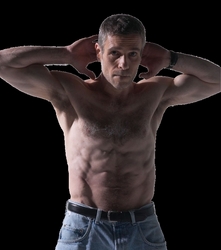 The Biggest Radio Show in the World
Phoenix, AZ (PRWEB) July 8, 2008
Ori Hofmekler, the host of "The Warrior Within: Your Guide to Nutrition, Energy, Sex & Survival" and co-host Brandy Jackson will be appearing as featured guests on Fox Television's "The Morning Show with Mike & Juliet" on Wednesday, July 9, 2008 as part of a segment on diet and fitness.
The show will focus in particular on Brandy's significant weight loss after working with Hofmekler in the areas of improved diet and nutrition programs. A single mother of a teenager, Brandy had struggled with weight issues for years. She got to know Ori Hofmekler after becoming Executive Producer and co-host of his radio show on the Voice America Health & Wellness network. Brandy began her weight management program with Ori on January 28 of this year. In just five short months Brandy has lost over 55 pounds. Brandy attributes her weight management to Ori's philosophies and an exercise program of just four minutes per day.
Jackson states, "More important than the weight loss is that I have energy again--no longer the couch potato I once was, my self esteem has gone up tremendously and I am not even to my goal yet! Ori's philosophy has a lot to do with what, when and the combination of foods you eat but know this--I have never felt starved or deprived, in fact I finally feel not only good about the food choices I am now making but educated about them as well."
The television program will focus on Brandy Jackson's weight loss program as well as the controversial philosophies administered by Ori Hofmekler. The program will air the same day in most markets.
"The Warrior Within: Your Guide to Nutrition, Energy, Sex & Survival" airs live on Wednesdays at 9 a.m. Pacific/11 a.m. Central/12 p.m. Eastern on the VoiceAmerica Health & Wellness Network. To access the show, log on at http://health.voiceamerica.com. All shows will be available in Ori Hofmekler's Content Library on the VoiceAmerica Health & Wellness Network for on-demand and podcast download.
If interested in hosting a talk radio show on the VoiceAmerica Health & Wellness Network contact Jeff Spenard, President of Internet Radio and Executive Producer of "The Biggest Radio Show in the World" at 480-294-6417 or at jeff.spenard @ modavox.com.
Contact Executive Producer and Co-Host Brandy Jackson at 480-294-6411 for advertising/sponsorship information or other show details.
About the morning show with Mike and Juliet:
The Morning Show with Mike and Juliet is a syndicated morning talk show with late night attitude. The program is broadcast live from Fox Television Studios in New York, Monday through Friday. The show features a unique mix of celebrity interviews, audience participation and engaging segments about topics relating to viewers' lives.
About Ori Hofmekler:
Ori Hofmekler is a modern renaissance man whose formative military experience prompted a life interest in survival science. He graduated the Bezalel Academy of Art in Jerusalem and received a degree in Human Sciences by the Hebrew University. A world renowned artist, Ori's work has been featured in magazines worldwide and art books of his political satire works were published in the U.S. and Europe. As editor and chief of "Mind and Muscle Power" magazine, Ori introduced his diet approach to the public to immediate acclaim from readers and professionals. "The Warrior Diet" book was published in 2002 in the U.S., France and Italy and has been featured in newspapers, magazines and science journals. Its new revised edition was published in 2007. In 2003, Hofmekler authored the highly acclaimed "Maximum Muscle Minimum Fat" book, addressing the secret science behind muscle gain and fat loss. In 2006, he authored "The Anti-Estrogenic Diet", dedicated to providing solutions against health shattering chemicals in the environment, food and water. In 2008 he revised Maximum Muscle Minimum Fat to a new expanded edition. Ori's "Take No Prisoners" newsletter exposes fallacies and dirty little secrets in the areas of diet and fitness and presents the true facts regarding human survival in today's world. Available at http://www.WarriorDiet.com and http://www.DefenseNutrition.com.
About VoiceAmerica/World Talk Radio/Modavox:
(OTC.BB MDVX), Modavox is the leading producer and distributor of online talk radio content, streaming approximately 250 hours of live programs and scheduled replays weekly on its Modavox VoiceAmerica™ Network and World Talk Radio Networks. Modavox, Inc. is a pioneer in Internet broadcasting, producing and syndicating online audio and video, and offering innovative, effective and comprehensive online tools for reaching targeted niche communities worldwide. Through its patented Modavox Central™ technology, Modavox "takes the search out of search," delivering content straight to desktops and internet-enabled devices. Through its proprietary StreamSafe™, WebcastWizard™ and Stream Syndicate™ tools, Modavox provides managed access for live and on-demand internet broadcasting and syndication, content management, online meetings, event management, enterprise communications and distance learning.
Forward-Looking Statements:
This release contains "forward-looking statements" for purposes of the Securities and Exchange Commission's "safe harbor" provisions under the Private Securities Litigation Reform Act of 1995 and Rule 3b-6 under the Securities Exchange Act of 1934. These forward-looking statements are subject to various risks and uncertainties that could cause Modavox's actual results to differ materially from those currently anticipated, including the risk factors identified in Modavox's filings with the Securities and Exchange Commission.
###