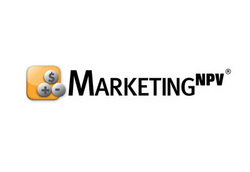 Princeton, NJ (PRWEB) July 8, 2008
MarketingNPV released the latest installment of its Measured Thoughts video webcast series featuring a one-on-one conversation with Kimberly-Clark Chief Marketing Officer Tony Palmer. Hosted by Dave Reibstein, William Woodside Professor of Marketing at Wharton School of Business and Managing Partner at MarketingNPV, the Measured Thoughts series offers insight from high level marketing executives on the challenges and importance of marketing measurement.
As Kimberly-Clark's first-ever CMO, Palmer is responsible for leading the growth of enterprise-wide strategic marketing capabilities and the development of high-return marketing programs to support the company's business initiatives. In his conversation with Reibstein, Palmer discusses the importance of "re-sequencing" marketing's role around customers and consumers by developing a brand promise first and then creating a marketing budget accordingly; the need for continual marketing measurement; marketing resource allocation; and the importance of fusing brand equity measurement and mix modeling to achieve both short- and long-term objectives.
The Measured Thoughts webcast series offers unique, executive-level insights into the efforts required to measure the financial payback of marketing investments. The format is one-on-one, informal discussions designed to provide a candid look at the state of marketing measurement today. Participants in this series include: Dan Henson; former CMO, General Electric (now President and CEO, GE Capital Solutions); Sean Hagerty, CMO, Vanguard; Rob Malcolm, CMO, Diageo; and Ashley McEvoy, President, McNeil Consumer Healthcare. Upcoming installments will include William Lauder, CEO, The Estee Lauder Companies; Ted Woehrle, Senior Vice President of Marketing and Brand Management, Newell Rubbermaid; Jeffrey Hayzlett, CMO, Kodak. To view this or other webcasts in the series, or for more information on these events please click here.
MarketingNPV is a highly specialized advisory firm that links marketing expenditures to financial value creation, providing continuous improvement in the effective and efficient allocation of marketing resources. The firm uses processes and tools tuned to measure the payback on marketing investments, track the right performance metrics, and forecast the economic impact of changes in strategy or tactics. MarketingNPV maintains the world's largest online archive of articles and resources about marketing measurement, and publishes MarketingNPV Journal quarterly.
Measured Thoughts is a service mark of MarketingNPV
Measured Thoughts webcast series is produced in conjunction with SAS and BetterManagement.com
Contact:
Tina Anagnostis
(908) 439-2891
###