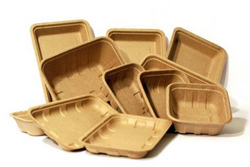 Adding packaging made with AgroResin® to our line of products is part of our solution to make the best packaging on the market with an unequalled commitment to the environment.
Vernon, CA (PRWEB) July 8, 2008
To help retailers keep pace with consumers who are ever more environmentally conscious, PWP Industries is introducing AgroResin sustainable packaging]. It's more than environmentally friendly -- it's part of the environment. Packaging made with AgroResin® is 100 percent biodegradable, compostable and made from non-GM agricultural biomass.
"Today's consumers want packaging that meets their present needs, but doesn't compromise the needs of future generations," says Ira Maroofian, President & COO, PWP Industries. "Adding packaging made with AgroResin® to our line of products is part of our solution to make the best packaging on the market with an unequalled commitment to the environment."
AgroResin® is made from renewable agricultural biomass fiber composite. Once considered a waste product and incinerated or placed in a landfill, now agricultural biomass is made into packaging that returns to the earth after use through composting or biodegradation. It is FDA-approved for direct food contact.
Products made with AgroResin® have a natural, "earthy" brown look that compliments fresh produce and prepared food products. AgroResin's stiff, durable structure protects fresh produce from bruising while its porous surface helps to extend product shelf-life. It is gas permeable, yet water resistant and can be used in the microwave.
AgroResin® outperforms and is comparable in price to other competitive offerings. It is automation capable and compatible with flow-wrap and shrink-wrap systems. Lid embossing is available for promotional logo opportunities. The AgroResin® product line currently includes square and rectangular produce trays but can be made into many shapes for many different applications.
The introduction of AgroResin® is an evolution in an overall corporate-wide green initiative called Earth's Pack . PWP Industries currently manufactures many of its plastic products using post-consumer PETE made from recycled water bottles. Its award-winning Tamper-Resistant™ packaging is unique for its exceptionally secure closure that eliminates the need for PVC shrink bands or shrink wrap. PWP Industries also is dedicated to further green operations and educating customers about sustainability through an employee-led effort called Eco-Team™.
For more information on pricing and sales for AgroResin® and other products from PWP Industries, please contact PWP Industries, toll-free, (877) 700-0330.
For more information about this press release and the attached images, contact: Natalie Kirschner, Marketing Manager (323) 513-9000
Irene Savine, Public Relations, (513) 280-1969
PWP Industries, founded in 1998, is a leading PETE and Polypropylene food packaging thermoformer in North America, with manufacturing plants located in Vernon California, Abilene Texas, and Mineral Wells West Virginia. PWP is highly regarded in the food packaging industry for producing competitively priced quality parts, superb customer service, and innovative product designs. Learn more at http://www.pwpindustries.com.
About AgroResin®: Designed using a lifecycle approach, AgroResin® is a molded fiber composite made primarily of cellulose or lignocellulose fiber networked via adhesives. It takes advantage of the abundant and renewable fiber residue of agricultural farming. The first molded fibre composite packaging in the world, AgroResin® can be made from any plant fiber, enabling sustainability and a positive impact on the ecosystem.
# # #