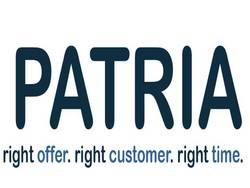 The leadership skills and business expertise that Marvin Davis and Jeffrey Rollins bring are vital to the continued growth of Patria
Wilmington, DE (PRWEB) July 8, 2008
Patria, a new mover marketing technology platform leader, recently named two veteran business executives to the company's Board of Directors.
The Board additions include Marvin Davis, former Senior Vice President and Chief Marketing Officer of Comcast Corporation, and Jeffrey Rollins, co-founder of Market Grove Partners.
"The leadership skills and business expertise that Marvin Davis and Jeffrey Rollins bring are vital to the continued growth of Patria," said Jim Roszkowski, Patria CEO. "Marvin's award-winning national marketing and branding savvy and Jeff's corporate growth and capital financing knowledge will be valuable assets to Patria as we continue penetrating our market segments and building our reputation of being the leader in move-marketing technology."
Davis, who resides in Philadelphia, was the first Chief Marketing Officer at Comcast (Philadelphia, PA), the nation's largest cable provider. Prior to joining Comcast, Marvin held executive level positions with Verizon Wireless, as the VP of Advertising and Brand Management at Verizon Wireless, Procter and Gamble and J.C. Penney. Among his many notable achievements was the launch of the national "Comcastic" branding campaign, which was awarded Best Television Campaign of 2005 by Adweek. Davis was named one of Brandweek's "Top 10 Marketers of the Year" in 2006, and also honored by Advertising Age as one of the industry's "Top 50 Marketers" for 2006.
Rollins has been actively involved in early stage investing and management since 1995. In 2001, he co-founded Market Grove Partners (Wilmington, DE), a firm focused on investing in and assisting small cap and early stage companies in healthcare, advanced sciences and bio-technology and other emerging growth, high-technology industries. Prior to launching Market Grove Partners, Jeff was a Partner and Managing Director of C2 Partners, a private equity fund focused on small cap value companies and the Vice President of Development for Brandywine Center Management (Wilmington, DE), a firm which developed in excess of $170MM of retail real estate.
Other notable Patria board members include Patria's Chief Executive Officer, James J. Roszkowski, and Wayne D. Kimmel, Managing Partner of ETF Venture Funds.
About Patria:
Patria, a new movers marketing technology platform leader, helps companies and major brands to better take advantage of the significant buying power and behavioral changes of the key "new mover" consumer group. The company's proprietary technology platform improves its clients business metrics such as new account acquisition, improved cross or up-selling results, new sales volume, increased account activation and greater existing account retention for clients across various vertical markets, with a strong emphasis within the financial services, cable and telephony industries. Additional information is available at http://www.mypatria.com.
###