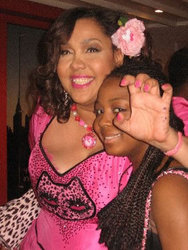 modelpreneur'' and her posse--Felinez, Angora and Aphro (short for Aphrodite) of Manny Hanny's Fashion International High School as they vie for entry into the annual Catwalk competition. Pashmina and her
New York, NY, (PRWEB) July 10, 2008
After the pop culture phenomenon that is The Cheetah Girls, award-winning writer Deborah Gregory introduces four new fashion-forward characters in her new novel Catwalk. The novel comes hot on the "Shimmy Choo heels'' of the impressive success Gregory has achieved with The Cheetah Girls that has resulted in a tween fan base that devoured her 23-book series, three Disney Channel Original Movies, two sold-out concert tours, three double-platinum albums, and massive merchandise tie-ins through Limited Too stores, Sears and Walmart. Cheetah Girls 3, filmed on location in India, debuts August 22nd on the Disney Channel.
In her latest novel, Gregory gives readers a peek under the petticoat of the intense competition and frenzy that fuels the world of fashion. Catwalk follows four friends Pashmina--the self proclaimed "modelpreneur'' and her posse--Felinez, Angora and Aphro (short for Aphrodite) of Manny Hanny's Fashion International High School as they vie for entry into the annual Catwalk competition. Pashmina and her "feline fatale'' friends must put together the ultimate fashion team, known as a house in the time-honored tradition of haute couture while four other "houses" struggle to achieve the same creative task. In this case, winner really takes all--the annointed house will snag the college scholarships, modeling contracts, designer perks and a trip abroad - enough to fulfill the Dolce dreams of any true budding fashionista.
Deborah Gregory is an accomplished writer, performer and designer who grew up in New York City's foster care system. Her childhood memories and experiences were her source of inspiration for her critically-acclaimed book series, The Cheetah Girls. The significance of what she went through while growing up is apparent in Catwalk, as in Pashmina's character: "The name Pashmina also represents luxury to me -- someone with enough innate talent and drive to rise above the ranks. That's my most common daydream. Later for Prince Charming--cuz he's stuck in a traffic jam, but transforming the tawdry and escaping my painful background--that's worth a few daydreams."
Deborah is an NABJ award-winning contributing writer for Essence magazine since 1992, her works have been featured in many popular magazines such as VIBE, Entertainment Weekly, MORE, Heart and Soul and Us. She has also contributed to several books including "Men of Color: Fashion, Mission, Fundamentals," "Body and Soul, SoulStyle: Black Women Redefining the Color Fashion," and more. She maintains a website at http://www.cheetahrama.com.
For more information about this topic or to schedule an interview with Deborah Gregory please contact Rachel DeLinda at rdelinda(at)siteoptimized.com or call (845) 363-4728 or visit http://www.cheetahrama.com.
###