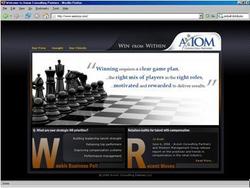 Dave is an outstanding addition that will augment Axiom's growth.
Chicago, IL (PRWEB) July 8, 2008
Axiom Consulting Partners LLC announced today that Dave Kuhlman has joined the firm as Partner. Dave brings deep expertise in creating significant change within demanding, people-intensive environments, including consulting, accounting, private equity, legal and financial services firms.
Dave has over 20 years' experience consulting to leading global firms as well as serving in a variety of line and HR roles. He has been head of HR for a leading global firm (Russell Reynolds Associates) as well as Chief Operating Officer of Sibson Consulting, a division of the Segal Company. He subsequently served as a Managing Director of Russell Reynolds Associates focusing on recruiting for and from professional services firms.
"Axiom is comprised of a remarkable group of people dedicated to creating a strong link between strategy and people, and I'm truly delighted to play my part," said Mr. Kuhlman.
"Dave joins us at an exciting time in our Firm's development," said Steve Strelsin, Axiom's President. "Dave is an outstanding addition that will augment Axiom's growth."
About Axiom Consulting Partners:
Axiom Consulting Partners specializes in hardwiring people to business strategy enabling better articulation and execution of business objectives. Axiom asks the right questions to uncover and remove the disconnects that commonly exist among the boardroom, middle management and the front line. Axiom's partners uncover insights and generate recommendations for their clients that have a quantifiable business impact.
Media Contact:
John Whelan
Director, Market Development
161 N. Clark Street, Suite 4700
Chicago, IL 60601
(312) 523-2090
jwhelan @ axiomcp.com
http://www.axiomcp.com
This press release was distributed through eMediawire by Human Resources Marketer (HR Marketer: http://www.HRmarketer.com) on behalf of the company
listed above.
###