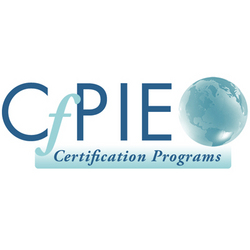 As regulators increase their commitment to product safety, the compliance demands on therapeutic manufacturers grow daily
Malvern, PA (Vocus) July 8, 2008
The Center for Professional Innovation & Education (CfPIE) announced today that it is offering a new certification track to its existing list of highly-successful biotech and pharmaceutical training courses. The Global Regulatory Affairs Compliance Professional (GRACP) program has been developed to provide life sciences personnel with the kind of robust training necessary to face today's toughest regulatory compliance challenges.
In an increasingly strict global compliance environment, firms and regulatory agencies value employees that understand complex mandates and can function on an international scale. Additionally, more comprehensive training programs that offer certification speak to a firm's commitment to compliance in the eyes of international regulators. Efforts such as these do not go unnoticed by agencies that govern the safety and quality of pharmaceuticals, medical devices, biotech and skin/cosmetic products.
"As regulators increase their commitment to product safety, the compliance demands on therapeutic manufacturers grow daily," says Mark Mazzie, Managing Director for CfPIE. "Organizations are taking an increasingly proactive approach to staying compliant with international regulations, as well as, proving to regulatory agencies that employees are well trained. CfPIE is happy to offer a comprehensive program that is detailed enough to give industry personnel the training they need to keep their firm compliant while offering the flexibility to allow staff to customize certification to their needs."
Listed below are the current core courses. A full list of electives can be found at cfpie.com:
1. Comprehensive Overview of FDA Regulatory Compliance for Drugs and Biotech Products
2. Overview of FDA Regulatory Compliance for Medical Devices
3. European Filing and Registration Procedures
4. Japan - Regulatory Filing Requirements and Compliance Processes for Life Sciences
5. Latin America - Understanding Regulatory Compliance Requirements
6. Medical Devices: EU Directives, Guidance, CE Marking and ISO Standard Certifications
As with all CfPIE's biotech, medical device and pharmaceutical training courses, certification programs can be delivered on-site at client locations worldwide. Additionally, documentation of training can be customized to the client's need for any program CfPIE offers.
About CfPIE:
The Center for Professional Innovation & Education (CfPIE) is the global leader in accredited training for Pharmaceutical, Biotech, Medical Device and Skin/Cosmetics personnel. Leading industry experts conduct over 270 public courses and an equal amount of customized on-site training programs annually. Class sizes are limited to ensure individual needs are fully addressed. From discovery through commercialization, CfPIE has the biotech and pharmaceutical training curriculum to advance your staff, keep your firm compliant and improve your bottom line.
###