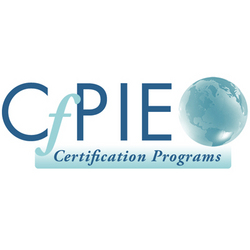 Recognizing that the ability to prepare a document is different from the ability to manage it from inception to archiving, CfPIE takes pride in offering this core discipline certification. We have identified this tremendous need throughout the life sciences, and have called upon several industry experts to develop the program
Malvern, PA (Vocus) July 8, 2008
The Center for Professional Innovation & Education (CfPIE) has announced a new certification program in Document Management. CfPIE has recognized the industry need to establish document management as a core discipline in the life sciences. It is the first organization to offer a unified document management training program leading to certification.
This new certification track, the Document Management Certified Professional (DMCP) joins 6 other certification programs offered by CfPIE. Like the other certification tracks, this program requires completion of three core courses and one elective. The current core course list is as follows:
1. Effective Document Management for the Pharmaceutical, Biotech & Medical Device Industries
2. Writing Effective Standard Operating Procedures and other Process Documents
3. Understanding Regulatory & Clinical Information Systems in Life Sciences during Product Development
This particular program was developed in response to popular demand, and to fill a glaring hole in industry - that there is no singular standard for how the life science industry implements document management systems. Remaining compliant means keeping records secure and being able to access them on short notice, whether a system is paper based, fully electronic, or a hybrid. With increasing globalization, partnering, and outsourcing, the need for document controls has never been more critical. To avoid the ills that come with noncompliance, companies are wise to understand that document management is a vital component of product success and, as such, plays an increasingly important role in biotech and pharmaceutical training.
"Recognizing that the ability to prepare a document is different from the ability to manage it from inception to archiving, CfPIE takes pride in offering this core discipline certification. We have identified this tremendous need throughout the life sciences, and have called upon several industry experts to develop the program," says Bill Beyer, Director of Marketing for CfPIE.
The certification tracks offer enough flexibility to make the training specific to individual needs. Additionally, CfPIE does not charge anything extra for participation in the program above the standard course fees. As always, any training program can be offered as a customized, client-site "certification series".
About CfPIE:
The Center for Professional Innovation & Education (CfPIE) is the global leader in accredited training for Pharmaceutical, Biotech, Medical Device and Skin/Cosmetics personnel. Leading industry experts conduct over 270 public courses and an equal amount of customized on-site training programs annually. Class sizes are limited to ensure individual needs are fully addressed. From discovery through commercialization, CfPIE has the biotech and pharmaceutical training curriculum to advance your staff, keep your firm compliant and improve your bottom line.
###