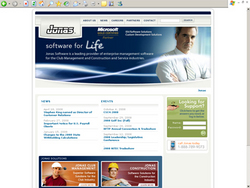 Jonas Software's new website was designed to provide current and prospective clients with specific industry targeted content and product information
(PRWEB) July 8, 2008
Jonas Software, a division of Constellation Software Inc., shifts their focus to their clients with a newly redesigned website. The new website, which is more client focused than their previous website, features improved navigation as well as full integration of contact forms into their CRM database.
The result is targeted pages with vastly improved response times for submitted information requests forms, which Jonas Construction believes will benefit the various groups that utilize their construction and service management software products. The new client-centric approach comes as part of a company initiative for improved client service that began in January of this year.
"Jonas Software's new website was designed to provide current and prospective clients with specific industry targeted content and product information," says Will Anderson, General Manager of the Jonas Construction division. "By moving from a company and a product-focused page to a more client-centric layout, we allow visitors to access information based on their own application rather than sift through everything to decide what they may or may not be interested in."
The redesigned construction and service management software website was conceived and designed by Agaric Design, of whom Jonas Construction has nothing but positive feedback.
"Agaric Design managed the entire project leveraging both internal and external resources to deliver the project on time and on budget," says Will Anderson, General Manager of Jonas Construction, "Agaric brought a clear and collaborative approach to the development and demonstrated impressive willingness to custom build certain elements of the content management system to give us the exact functionality and back end integration that we were seeking."
In the construction software business, functionality and integration are key concepts. In fact, it is what they sell. Jonas Construction specializes in construction and service management software, such as fully integrated accounting, payroll, job cost, service management, inventory and equipment management, document management, mobile technology, and web portal solutions. Jonas Construction's software solutions are currently being used by over 1,000 contractors across North America to drive revenue, increase efficiency, and make better business decisions.
For more information about Jonas Construction and their products, visit their brand new site at Jonas-Construction.com.
About Jonas Construction:
Jonas Construction is a division of Constellation Software Inc., a publicly traded international provider of market leading software and services to select industries in both public and private sectors. It is headquartered in Toronto, Canada and has offices in North America, Europe, and Australia. General Manager Will Anderson joined the company in 2003.
###