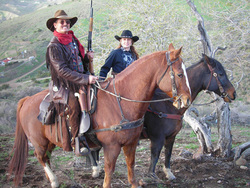 Train to Be Your Favorite Action Hero.
Burbank, CA (PRWEB) July 8, 2008
USHorse.biz member Anthony De Longis announced today a new addition to his world-class equestrian adventures: "Train to Be Your Favorite Action Hero." With this latest offering, De Longis, who specializes in extreme riding experiences, enables guests to become their favorite action heroes, whether it's from film (Indiana Jones and the Kingdom of the Crystal Skull, Batman Returns), literature (The Three Musketeers, Last of the Mohicans) or the Wild West (Wyatt Earp, Doc Holliday, Calamity Jane, Annie Oakley).
When it comes to helping people turn fantasy into reality, Anthony De Longis is the expert. An actor, fight director and weaponry master, he trained both Harrison Ford in 'Indiana Jones and the Kingdom of the Crystal Skull' and Michelle Pfeiffer in 'Batman Returns' in the art of the whip, and has coached numerous other film stars for their stunts in a range of action/adventure films.
"Train to Be Your Favorite Action Hero" is just one of many world-class equestrian adventures offered by De Longis and his wife Mary at their rustic retreat Rancho Indalo, located in Canyon Country, CA. Other offerings include exhilarating cross-country rides for equestrians at all levels, from solid beginners to advanced riders looking for an 'extreme' equestrian experience and weapons work on horseback with sabers, lances, whips and archery for experienced riders. Or learn to shoot pistols, shotguns and rifles at their on-site gun range.
At Rancho Indalo, guests can not only create their own action/adventure experience, but also enjoy the gourmet dining, fine wines and spa offered by this unique Southern California getaway in the high desert mountains adjacent to Agua Dulce and Vasquez Rocks.
For more information on Anthony De Longis and his world-class equestrian adventures, visit Rancho Indalo.
USHorse.biz promotes our member equestrian businesses. We also offer business services like custom web site design at the affordable rate of $99.95 per month. If you would like information on promoting your business or creating a custom web site, visit http://www.USHorse.biz or contact Judy Walker at 818-551-1251.
###