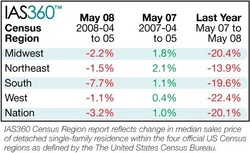 While things look terribly gloomy on the national and regional level, there are some pockets of opportunity at the neighborhood and county level that are worth a look
Denver, CO (PRWEB) July 8, 2008
Integrated Asset Services, LLC (IAS, http://www.iasreo.com), a leader in default management and residential collateral valuation, today released its IAS360 House Price Index for May 2008. The May report, which includes the most current and granular data available in the industry, showed a -3.2% decrease in house prices on a national level from April to May, and a -20.1% decline from May 2007 to May 2008.
The IAS360 House Price Index is a comprehensive housing index tracking monthly change in the median sales price of detached single-family residences across the U.S. The index, based on all arms-length transactions, tracks data at a "neighborhood" level, which is then rolled up to report on the changes in 360 counties, nine census divisions, four regions, and the nation overall. The IAS360 House Price Index is delivered on a monthly basis.
All four U.S. regions posted declines in May, further eroding an already volatile housing market. The South continues to face the greatest struggle, with a decline of -7.7% for the month and a -19.6% reduction in regional house prices since May 2007. The West continued its downward trend as well, tracking a -1.1% decline in May with an annual decline of -22.4%. The Midwest and the Northeast regions were down -2.2% and -1.5% respectively for the month of May.
"While things look terribly gloomy on the national and regional level, there are some pockets of opportunity at the neighborhood and county level that are worth a look," said Dave McCarthy, President and CEO of Integrated Asset Services.
Using Denver as an example, Denver MSA house prices rose 0.4% for May, and posted a year-over-year decline of -16.5%. But drilling in to the county level data uncovers sign of improvement in places like Adams County, where house prices jumped 1.2% for the month of May. Denver County saw a 0.3% increase and Arapahoe County a 0.6% increase after posting year-over-year declines of -18.0% and -14.6% respectively. While several counties within the Denver MSA saw slight improvements, other counties are still feeling the pressure. Broomfield County, for example, posted a -4.8% decline, adding to the year-over-year decline of -18.5%.
"The housing market is a local phenomenon," said McCarthy. "To get a clearer picture of the market, it is important to drill down to the county and the neighborhood level to begin seeing the trends that are truly moving the housing market."
IAS also provides "neighborhood" level house price trends through its iMVI product. More information on iMVI can be found on the IAS website, http://www.iasreo.com/cs.html.
*Due to the timeliness of the data, the IAS360 House Price Index is subject to revisions on a monthly basis.
About Integrated Asset Services, LLC.:
IAS is a privately-held Colorado-based corporation specializing in default mortgage services including valuation, reconciliation and full cycle REO disposition. The Company's advanced valuation and volatility technology combined with its expert professional services help its clients reduce exposure while expediting the entire asset management process. Founded by REO industry experts, IAS provides services that go beyond industry expectations; from the level of integrity of its employees to the measurably better service it routinely provides. For more information, visit the company's Web site at http://www.iasreo.com.
This press release contains various forward-looking statements within the meaning of the Private Securities Litigation Reform Act of 1995 regarding future results of operations and market opportunities that are based on InteliReal and IAS' current expectations, assumptions, estimates and projections about the company and its industry. Investors are cautioned that actual results could differ materially from those anticipated by the forward-looking statements as a result of the success of IAS' branding and consumer awareness campaign and other marketing efforts; competition from existing and potential competitors; and IAS's ability to continue to develop and integrate new products, services and technologies.
###