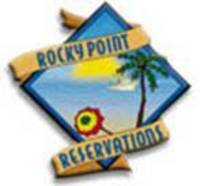 We are offering this service to our property owner/clients for free. We believe it will significantly increase their revenues
Phoenix, AZ (PRWEB) July 8, 2008
Rocky Point Reservations, Inc. of Phoenix, AZ today signed a strategic alliance with its vacation software provider, RealTimeRental of Ocean City, NJ, who provides electronic online distribution of vacation rental properties.
This alliance will significantly increase online traffic for more than 400 vacation properties located in Puerto Peñasco, Sonora Mexico, also known as "Rocky Point". RealTimeRental provides this service for The Wall Street Journal's Real Estate Vacation Rental Website at http://wsj.realtimerental.com/, which boasts more than 50,000 unique users each month.
"We are offering this service to our property owner/clients for free. We believe it will significantly increase their revenues," said Jason Sprinkle, Business Manger of Rocky Point Reservations.
"Rocky Point Reservations has used our internet-based rental system since 2005, and now complimenting it with this additional distribution capability will bring more rental income to their property owners," said Joe Testa, CEO of RealTimeRental.
About Rocky Point Reservations, Inc.:
Rocky Point Reservations, Inc., in business since 1987, procures rental clients for more than 400 vacation properties in the seaside town of Puerto Peñasco, Sonora Mexico, located on the Sea of Cortez (Gulf of California). Our rental clients come from all over the world. Our owner clients include vacation rental homes, condos, hotels and resorts. Visit http://www.RockyPointRes.com for more information.
About RealTimeRental:
RealTimeRental® was built from the ground up for the Vacation and Residential Rental and Property Management Offices that want to get the most out of their rental business. Our clients have been able to reach more customers, book more reservations, provide a higher level of service, increase efficiency and profitability, all without having to purchase hardware.
###