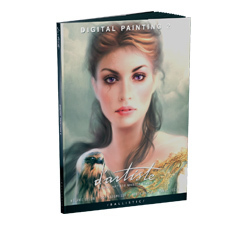 Adelaide, South Australia (PRWEB) July 15, 2008
The sixth book in the d'artiste series--Digital Painting 2--features Master Artists Don Seegmiller, Mélanie Delon, Daniel Dociu, and Marta Dahlig.
Each of the artists present their digital painting techniques through a series of in-depth tutorials. The 208-page book also contains the Artists' personal gallery, the artists' work and thoughts, and an invited artist gallery, featuring work from some of the most talented digital artists in the world. The combination of artist interviews, their own artwork and art that inspires them, gives the reader a comprehensive and personal insight into the mind of the Master Artist--their approaches, their techniques and what influences them in their own work.
Daniel Dociu, Mélanie Delon, Don Seegmiller, and Marta Dahlig have worked on a number of high-profile game projects, how-to books, and teaching posts spanning the gamut of the digital painting landscape. Each artist provides wonderful insights into their approaches and thoughts on the direction and challenges of their careers. Each artist also covers in detail, their process from the initial concept, right through painting techniques and tricks to the completion of three major paintings. Each of the fully illustrated tutorials provides priceless tips on improving any artist's digital painting skills.
d'artiste Digital Painting 2 celebrates the creative talents of digital artists worldwide. It is the digital art industry's premier how-to series, featuring the world's best artists' own art and techniques and gives all aspiring artist's the chance to 'Learn from the Masters'.
Pricing and Availability
d'artiste Digital Painting 2 is available in two editions: Paperback with slipcase (USD$69); Limited Edition (USD$170).
Publication Details:

ISBN: 978-1-921002-57-1 (Slipcased), 978-1-921002-56-4 (Limited Edition)
Pages: 208 pages (Slipcased)/208 pages (Limited Edition)
Dimensions: 220 x 297mm
Editors: Daniel Wade, Paul Hellard
Co-Publishers: Mark Snoswell, Daniel Wade
Shipping: 15th July 2008
More details about the books and availability can be found on the Ballistic Publishing website at:
http://www.ballisticpublishing.com/books/dartiste/digital_painting_2
A set of four bonus prints are yours free when you purchase d'artiste: Digital Painting 2 Limited Edition.
About The CGSociety and Ballistic Media
Ballistic media operates two major divisions--The CGSociety and Ballistic Publishing. The CGSociety is the world's largest society of professional digital artists and provider of forums, portfolios, training, job and event services for the digital arts industry. Ballistic Publishing is the leading, award-winning, independent publisher of books for the digital arts industry.
Media Contact
For more information, images and review copies please contact:
Annie O'Neill
annie @ ballisticmedia.net
Tel: +61 8 8463 1866
###