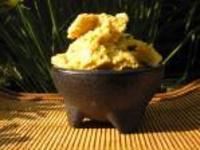 Chicago, IL (PRWEB) July 8, 2008
The African Store brings Shea Butter and Black Soap savings to the 2008 Indiana Black Expo from July 18-20, 2008.
Get 5% off your total wholesale or retail purchase by bringing a copy of this press release, a friend, or a family member to our booth at the expo. You will find us in booth number 823 in Hall B.
For centuries in Africa, and later in Europe, Shea butter has been used to help heal burns, sores, scars, dermatitis, psoriasis, dandruff, and stretch marks. Organic, unrefined Shea Butter has been clinically proven to decrease the appearance of lines and wrinkles and is becoming one of the popular anti aging compounds on the market.
Shea Butter in its pure form nourishes the skin with Vitamins A, E and F. Vitamins A and E help maintain the skin and keep it clear and healthy. They are particularly helpful for sun-damaged skin. They help prevent premature wrinkles and facial lines. Vitamin F acts as a skin protector and rejuvenator. It soothes rough, dry or chapped skin and helps soften dry or damaged hair. Together with the Shea butter, The African Store is will be offering the world famous Dudu-Osun African Black, pure and raw Black Soap from Ghana, and Fragrance Body Oil.
Dudu-Osun African Black Soap has been the best selling African Black Soap since it was introduced some years ago due to the all-natural tropical ingredients like Shea Butter, Aloe Vera, Honey, Lime and Lemon juice that are used in making this natural African Black Soap.
Brief history of the Indiana Black Expo:
Indiana Black Expo, Inc. (IBE), the largest Black Expo, has been a pillar of the African-American community for 38 years. It has encouraged, uplifted and celebrated the accomplishments and achievements of African-Americans throughout the U.S, Indiana in Particular. Its mission is to be an effective voice and vehicle for the social and economic advancement of African-Americans. Its vision, that African-American youth and families achieve their highest potential and reflect pride in their ethnicity. Its diversity promise, Indiana Black Expo, Inc. celebrates cultural diversity and inclusiveness across all races, ethnicities, nationalities, generations, socioeconomic levels and religious affiliations. They continue to strive for excellence by providing unique events and programs that reflect the changing landscape of Indiana and the world. Their commitment to excellence through personal enhancement and community development exemplify their dedication to improving the quality of life for all.
Since its inception in 1970, Indiana Black Expo, Inc. has done just that. Programs and activities such as the Youth Video Institute, Summer Celebration, Coca-Cola Circle City Classic, various scholarship programs and We Can Feed the Hungry, have contributed to communities for decades. The summer events attract over 350,000 people every year.
Dates: July 18-20, 2008.
Location: booth number 823 in Hall B.
Time of operation:
Friday, July 18, 2008 (Noon - 9:00 p.m.)
Saturday, July 19, 2008 (10:00 a.m. - 10:00 p.m.)
Sunday, July 20, 2008 (Noon - 6:00 p.m.)
For more information, call us toll-free 1-888-522-8186 or visit us online.
###