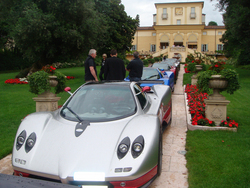 Tallinn, Estonia (PRWEB) July 9, 2008
From 12th to 15th of June the Estonian entrepreneur Margus Reinsalu was invited to the super car Pagani Zonda meeting in Verona, Venezia by Horacio Pagani, the owner of Pagani and the organiser of the occasion.
The meeting brought together 14 exclusive Pagani Zondas, among them a very rare purple Bugatti Veyron. This year's gathering was already the 4th since 2004. Pagani Zonda models are a limited edition and only 100 of them have been sold altogether.
Margus Reinsalu is a keen supporter of GP2 and a member of Ferrari Owners Club of Andalucía. Recently he also signed an endorsement contract with the Spanish GP2 Team Racing Engineering whose driver Giorgio Pantano was a winner of Saturday's race and leading the Grand Prix overall.
###