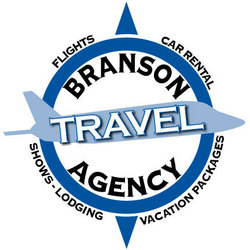 And now, through our relationship with Enterprise Rent-A-Car, we can offer our customers great vacation deals, the best airfares available into this market, and outstanding rates on rental cars
Branson, MO (Vocus) July 9, 2008
Branson Travel Agency, a division of market-leading vacation provider Branson Tourism Center, announces that Enterprise Rent-A-Car, the largest car rental company in North America, has been chosen as its Preferred Partner for automobile rental.
With more than seven thousand offices conveniently located within 15 miles of 90 percent of the U.S. population, Enterprise is known as the industry's standard bearer for exceptionally low rates and remarkable customer services. What began in 1957 as a small operation located in the basement of a St. Louis car dealership, Enterprise now boasts 700,000 automobiles in service and more than 65,000 associates handling tens of millions of transactions per year.
Branson Travel Agency offers extensive savings on an impressive array of vacation and travel amenities including tickets to more than 100 unique live entertainment performances, admissions to a wide variety of world-class attractions, over 100 lodging options suited to all tastes and budgets, special packages at more than a dozen championship golf courses and much more.
"And now, through our relationship with Enterprise Rent-A-Car, we can offer our customers great vacation deals, the best airfares available into this market, and outstanding rates on rental cars" shares Robert McCracken, Director of Branson Travel Agency. "We have built an amazing trust with our consumers through the years and are extremely confident that Enterprise's demonstrated commitment to customer service, social responsibility and business ethics will superbly echo our efforts."
Enterprise has received numerous accolades and awards, including a Top 10 ranking in Business Week's first-ever list of "Customer Service Champs" and a consistent 'highest ranking' in customer satisfaction by J.D. Power and Associates for rental car companies at or near airports.
"Branson Travel Agency customers flying into the airports in Springfield, Kansas City, St. Louis, Little Rock and Tulsa can now take advantage of very attractive pricing models and automobile selection. And we're particularly excited about joining efforts with Enterprise Rent-A-Car because of the much anticipated May 2009 opening of the new Branson Airport." says McCracken. "This magnificent Airport, just minutes from the heart of Branson, will open up our vibrant community to even more visitors than the current 7 million travelers we currently welcome each year."
To learn more, please contact:
Robert McCracken, Director
Branson Travel Agency
220 Branson Hills Parkway, Suite H
Branson, MO 65616
(800) 251-6179 or BransonTravelAgency.com
About Branson Tourism Center: Branson Tourism Center and Branson Travel Agency offer commanding individual and group discount pricing for entertainment, lodging, attractions, vacation packages, car rental and air fares for Branson, Missouri- one of America's most popular destination markets. Among its broad list of professional industry affiliations is membership in the American Society of Travel Agents (ASTA).
About Branson, Missouri: Branson, nestled in the exquisite natural beauty of the Ozark Mountain region of southwest Missouri, is decidedly one of America's top vacation destinations. Playing host to more than seven million visitors annually, Branson offers close to 100 live shows, 200 lodging facilities, 400 restaurants, and many attractions of various descriptions.
###