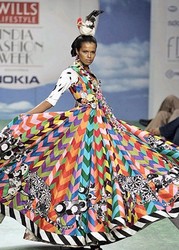 New York, NY (PRWEB) July 9, 2008
Remote Lands, the world's leading luxury travel designer offering bespoke journeys to Asia, is now offering guests the opportunity to experience an insider's perspective of Asia's most fashionable destinations through its Bespoke Luxury Fashion & Shopping Trips. The company is affording its stylish clients the opportunity to go behind the scenes at major Fashion Weeks in Asia, and meet with important local designers, models and celebrities in the fashion field. The Remote Lands Bespoke Luxury Fashion & Shopping Trips include seven nights' accommodations in luxurious boutique hotels; all meals and drinks; private consultations with high-end jewelers, designers and fashion experts; front row seats and backstage access at important fashion shows; experienced, style-conscious guides in each city; and private dinners and cocktail receptions in the homes of influential locals. These extraordinary experiences start at $15,000 per person, and may be customized based on additional services.
Remote Lands currently offers Bespoke Luxury Shopping Trips to:

Bangkok: Remote Lands will arrange for guests to fly to the Thai capital to attend Spring Fashion Week, held annually in late March. Clients will stay in the Chakrabongse Villa, a boutique hotel on the banks of the Chao Phraya River, owned by a member of the Thai royal family. They will have exclusive use of a classic mid-century speed boat to get them around Bangkok's waterways. A private consultation with Sri von Bueren, designer and owner of the famed luxury jewelry and decorative objects boutique Lotus Arts d'Vivre, will include a tour of the Lotus design studio and workrooms. Von Bueren will also visit with guests over a meal or cocktails to help them create a one-of-a-kind piece of customized jewelry. Fashionistas will delight in their front row seats and backstage access to top designers' catwalk shows, which will be arranged by Remote Lands during Fashion Week. Guests will also be able to visit the studios of famous designers for private consultations and have the opportunity to order an haute couture or bespoke outfit. To round out the experience, a glamorous cocktail party will be organized for Remote Lands' guests, hosted by a bevy of Bangkok's supermodels, and film and television personalities.
India: Fashion aficionados will enjoy a whirlwind trip to India in mid-March, which will enable them to attend two key Spring Fashion Weeks, in Mumbai and in Delhi. In the capital city, guests will stay at the Aman Delhi, the latest addition to the famed hotel group's collection of properties worldwide. Travelers will enjoy a deluxe suite with a private pool terrace; the first of its kind in India's capital. Remote Lands will arrange for a classic car to drive guests around the city during their stay. Guests will be afforded exclusive access to the shows of some of India's most popular designers, escorted by a senior member of India's first concept store, Hot Pink. Following the shows, guests will be invited to attend cocktail receptions and meet with the designers one-on-one. Bina Ramani, a well-known socialite and fashion insider, will host a dinner for Remote Lands clients, attended by Delhi's elite. Guests will then travel via private jet to Mumbai, where they will stay in a suite in the recently opened Four Seasons Hotel. They will attend fashion shows of their choice, accompanied by a fashion editor from Vogue India. Afterwards, guests will be invited to the set of a Bollywood film in production at the time, to meet with the principal stars and observe the filming.
Hong Kong: Remote Lands will arrange for guests to travel to Hong Kong in January to attend Fashion Week. Clients will stay in a suite in the ultra-hip JIA Hong Kong, a Philippe Starck-designed luxury boutique property. Front-row seats and backstage access to the hottest shows will also be arranged by Remote Lands, and guests will be accompanied by a fashion expert from the team of Joyce Ma, the Asian high fashion legend. Afterwards, guests will be invited to a private consultation at Sonjia, a haven for classic and contemporary evening wear, and have the opportunity to create a one-of-a-kind evening gown. A visit to LIII LIII, one of the trendiest shoe designers in the city, will enable clients to view and purchase custom-made footwear and bags in a wide variety of leathers and exotic materials. Remote Lands will also arrange for guests to preview the latest collection of the uber-hip design store GOD; Goods of Desire, and to meet with Michelle Ong of Carnet, Hong Kong's most fashionable jeweler, for a private consultation.
Remote Lands can arrange for Bespoke Luxury Fashion & Shopping Trips in many of the other Asian countries and territories. For inquiries, please call (646) 415-8092 or visit http://www.remotelands.com.
About Remote Lands
Remote Lands, Inc., the world's foremost luxury bespoke travel provider focused exclusively on Asia, is based in midtown Manhattan with a logistics office in Bangkok. The company specializes in extraordinary experiences in magical, far-flung destinations and insider access to exceptional people and exclusive events. The venture capital-backed company was founded by seasoned business and travel entrepreneurs Catherine Evans Heald and Jay Tindall, both of whom have lived, worked and traveled all over the world. Remote Lands actively promotes socially responsible tourism that strives to bring an understanding of other cultures and helps to preserve their way of life. Ten percent of the company's profits go directly to local charities in developing countries. For more information, please visit http://www.remotelands.com
###