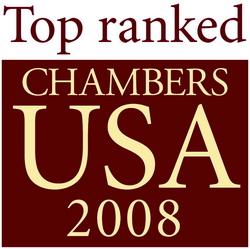 Charles Kuck is the current president elect of the American Immigration Lawyers Association. Peers note that he is a skilled litigator and trial lawyer who is clearly in command. Peers respect him for his firm beliefs and willingness to act against even the US government.
Atlanta, GA (Vocus) July 9, 2008
The 2008 Edition of leading law directory, Chambers USA, bestowed preeminent honors to the law firm of Kuck Casablanca & Odom, LLC and its Managing Partner, Charles Kuck.
Kuck Casablanca & Odom, LLC, which exclusively practices Immigration Law, was chosen as the number two Immigration Firm in Georgia. Along with this elite ranking, Chambers USA describes the firm as follows:
"This once-small immigration boutique now has five offices across the South and Southeastern USA, and is highly regarded as doing a great job in immigration. Although well known for its work in family matters, the breadth of the practice means it can also handle business immigration, even extending to immigration litigation."
Charles Kuck, the Managing Partner of Kuck Casablanca & Odom, LLC, received an equally impressive honor. The renowned leader in Immigration Law, who was recently installed as the new President of the American Immigration Lawyers Association (AILA), was chosen as the number one attorney in this field in the state of Georgia by Chambers USA. The publication praises Mr. Kuck's work as follows:
"Charles Kuck is the current president elect of the American Immigration Lawyers Association. Peers note that he is a skilled litigator and trial lawyer who is clearly in command. Peers respect him for his firm beliefs and willingness to act against even the US government."
###