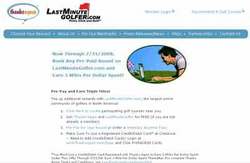 We are very excited to expand our members' reward-earning opportunities into golf courses
Tyrone, GA (PRWEB) July 9, 2008
Merchant-funded reward network Thanks Again announces a new partnership with LastMinuteGolfer.com. This partnership allows registered Thanks Again members to earn incremental airline miles and other rewards when playing golf at any of several hundred courses across the United States.
The partnership has commenced with a Triple Miles promotion. The special offer, which ends September 30th, allows registered Thanks Again consumers to earn three miles for every dollar spent on golf tee times and weekday passes. Registration is free and secure at http://www.ThanksAgain.com and http://www.LastMinuteGolfer.com/join. Consumers can enroll up to five cards to immediately begin receiving incremental rewards from participating local merchants, just in time for summer vacation season. Merchants already working with Thanks Again include spas, dry cleaners, auto dealers, and golf courses.
"We are very excited to expand our members' reward-earning opportunities into golf courses," said Thanks Again CEO Marc Ellis, who has many years of experience building, branding, and promoting marketing channels within fragmented industries. "We believe that golfers nationwide will truly appreciate earning incremental rewards when conveniently and securely booking golf at LastMinuteGolfer.com, the largest online golf community in North America."
This new partnership strengthens Thanks Again's consumer value proposition. Historically, Thanks Again has offered consumers incremental rewards that include airline miles, cash back, gift cards, and "Give Green" charitable contributions in a variety of "everyday spending" categories. Now, Thanks Again allows members to earn rewards booking last minute tee times or purchasing weekday anytime passes at http://www.LastMinuteGolfer.com with registered debit and credit cards.
The partnership not only benefits registered members of Thanks Again, but also existing members of LastMinuteGolfer.com. "Our frequent golfer program combined with Thanks Again rewards provides exciting incentives for our members to get out and play more golf. We look forward to promoting this campaign to millions of frequent fliers and adding more and more value to tee times booked through our service," said Mike Last, President and Founder of LastMinuteGolfer.com.
For more information and to enroll, visit http://www.ThanksAgain.com/LMG.
About Thanks Again, LLC:
Thanks Again is a merchant-funded reward network that allows large National Reward Programs to accelerate reward earning opportunities for millions of their members. The Thanks Again Rewarding MerchantSM network is a 3,700+ local merchant consortium operating in the top 50 U.S. metropolitan areas and in 92 of the top 100 markets across 45 states.
About LastMinuteGolfer.com:
Serving roughly 6 million page views each month to roughly 400,000 monthly visitors, LastMinuteGolfer.com offers a free membership to avid golfers. LastMinuteGolfer now has over 500,000 golfers in its database. Members enjoy the patented convenience of access to "last minute" tee times and greens fee specials at hundreds of participating courses in 41 cities. Hundreds of thousands of golfers conveniently and securely book tee times at their favorite golf courses, post scores, meet other golfers and earn frequent golfer "yards".
###