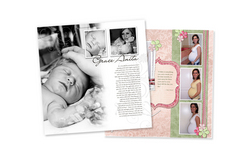 Our dedicated sales consultants have asked for more ways to help clients tell their family stories and build their heritage, and we have responded
Provo, Utah (PRWEB) July 15, 2008
Heritage Makers, the direct sales leader in personal publishing, announced two new products today: individual 12 x 12 scrap pages and playing card games. Scrap pages and playing card games allow families to share memories and stories in a unique and personal way and add to the wide product selection already available with Heritage Makers.
Both of these new products can be created with Heritage Studio, Heritage Makers' web-based, personal publishing platform. These products are completely customizable with photos, art content, and text journaling. Users design their own scrapbook pages in Studio, or use one of the many creative templates available and print the pages as they go. Playing cards can be created for classic games such as "Go Fish," "Memory" and many more, fully-personalized games with customers' own photos and text. Both products are shipped right to a customer's door within a few days of their order.
"Our dedicated sales consultants have asked for more ways to help clients tell their family stories and build their heritage, and we have responded," explained Justin Biggs, Vice President of Product and Operations for Heritage Makers. "These two products are just the latest fun and affordable tools for our customers to build lasting legacies and easily share them with friends and family."
Scrap pages are available for $3.95/page and playing card games are $24.95 for a 54-card deck, plus shipping and handling.
To create scrap pages, playing card games, or Heritage Makers' storybooks or other products, visit http://www.heritagemakers.com to create a free online account, or speak with your local Heritage Consultant who may be able to offer you special discounts, packages, and promotions. Heritage Studio runs in a web browser on a Mac or PC, enabling anyone to preserve family stories, strengthen relationships, and build self-esteem with unique, creative, and personalized heritage-building products.
About Heritage Makers
Heritage Makers is a company and a community that believes in the power of strengthening family relationships through personal publishing. Its online Heritage Studio publishing platform makes personal publishing simple for anyone- families, photographers, teachers, creative professionals, artists, writers, digital scrapbookers, or anyone else with a story to tell. With Heritage Makers' unique online publishing process these stories can be preserved for generations in custom hardbound books and other products. In addition, Heritage Makers offers a unique income-building opportunity for our consultant sales force, numbering in the thousands and growing by hundreds every month.
###