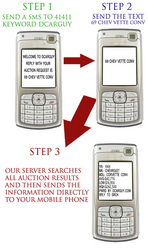 DCarGuy is just the beginning; we are releasing new mobile content products on an almost daily basis. Our focus on the mobile media space has given birth to several innovative products that leverage SMS, MMS and WAP technologies
Saint James, MO (Vocus) July 9, 2008
Today, Jera Media announced the release of an innovative mobile content service that just may change the way you look at your cell phone. Utilizing short-code technology, the service grants users access to a host of practical information, such as vehicle pricing averages, lowest gas prices by zip code, MLS listing information, or even sports betting odds and mixed martial arts event information, via SMS text messages.
The company's flagship product featuring the keyword DCarGuy, grants subscribers access to a massive database of sales results from every major collector car auction held around the United States. The user simply sends a text message with the keyword DCarGuy and the year, make and model of a collectible vehicle and within seconds they receive a reply showing the high, low and average sale price at auction for that vehicle. The database is updated weekly in order to display the most up-to-date auction results available.
"DCarGuy is just the beginning; we are releasing new mobile content products on an almost daily basis. Our focus on the mobile media space has given birth to several innovative products that leverage SMS, MMS and WAP technologies," said Theresa Corliss, Owner, Jera Media. "Our solutions are more than ringtones and wall papers. They actually turn a mobile phone into a research tool. By the end of next week, subscribers will have access to the lowest gas price in their zip code, late-model car pricing, MLS realty listing information, average eBay pricing, and even local MMA event dates –all through their cell phones."
Jera Media's mobile content products are compatible with any cell phone that can send and receive text messages. There is no software to install, and it is as simple to use as sending a text message. The services have been tested and are available for all major carriers, including AT&T®, Verizon Wireless®, T-Mobile®, Virgin Mobile®, Alltel Wireless® and Sprint®.
Subscription Options and Free Trial:
Jera Media will offer both free and low-cost subscriptions to its various mobile content services. Free subscriptions will be powered by advertisers within the given industry. Such advertisements will most often take the form of "powered by" ads within the text message results. In some cases, such as MLS services, realty companies will pay a monthly fee and post signs and riders at properties that invite prospective buyers to text a keyword and receive property details.
One such free subscription is 4Gas, which has been launched simultaneously with DCarGuy. Using this service, subscribers will text the keyword 4Gas along with their zip code and receive a message back with the location of the lowest-priced gasoline in their area. Those with WAP enabled phones will have the further option of clicking a link to view the 10 lowest prices within that zip code. Further details, information and free subscriptions to 4Gas are available at JeraMedia.com.
The three low-cost subscription types include a monthly recurring subscription for $9.99 per month, a one-month subscription (non-recurring) for $14.99 and a seven-day subscription for $4.99. These subscription options, as well as a free two-day trial, are currently available for the DCarGuy keyword service featuring collector car auction pricing information at DCarGuy.com.
Upcoming Keyword Releases:
DCarGuy and 4Gas will soon be joined by 4Cars, which will provide late-model vehicle pricing (high, low and average) on makes and models ranging from Acura to Yugo for both private sales and dealers; 4eBay, with which subscribers can obtain average asking and sale price, as well as sell-through rate for any item on eBay; 4MMA, which will be a free subscription, will offer mixed martial arts enthusiasts event information by zip code or state, along with news and fighter stats; another free subscription will be 4MLS, which will be powered by realty companies and grant users access to information about specific realty listings through MLS number. Exact release dates as well as subscriptions to these and other keyword services are available at JeraMedia.com or by calling 888-561-6863 ext. 723.
"The potential and benefits of these products are amazing," said Corliss. "Imagine you are on a used-car lot and find a 1999 BMW 323i for $8,900.00. Is that a fair asking price? Subscribers to our service can simply text the keyword 4Cars along with 99 BMW 323i to our short code number and within a few moments they will know that the average dealer price on this car is $10,512. Having that kind of information instantly is invaluable."
A full listing of upcoming keyword releases, subscription information, FAQs, detailed user instructions and advertising opportunities are available at Jera Media's website or by calling 888-561-6863 ext. 723.
About Jera Media:
Jera Media was formed in April 2006. Owned by Theresa Corliss and headquartered in Saint James, Missouri, a small community known for a stopping point on the famous Route 66 and award winning wine. Since its inception, the company has built a solid reputation as a leader in marketing and business development. The company's focus on the mobile media space has given birth to several innovative products that leverage SMS, MMS and WAP technologies. Offering much more than ringtones and wall papers, Jera Media's solutions actually turn a mobile phone into a research tool.
###