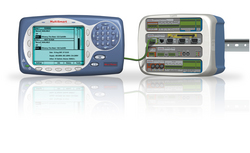 We also added some enhancements to the MultiSmart user interface so that the user can view IsaGRAF tags on the LCD. This allows debugging and checking without needing a laptop with Workbench installed. The LCD also shows Modbus and DNP3 master and slave tags, as well as the complete MultiSmart tag database
Brisbane, Australia (PRWEB) July 9, 2008
MultiTrode, the specialist in lift station technology for water and wastewater utilities, has released v2.0 of MultiSmart software. v2 provides a new standard for the water industry, combining the existing comprehensive functionality set with a PLC add-on.
The unique MultiSmart pump station manager now includes a very comprehensive pump controller, a PLC, an RTU, an intuitive operator interface, voltage monitoring and protection, motor protection, meggering, power and energy monitoring, flow calculations and pump efficiency monitoring.
"This new development of MultiSmart allows system integrators and end-users to further enhance or adapt the capability of MultiSmart," said Steve Carson, Group Marketing Manager. "The existing functionality set in the product is very high, but there are always customers and applications that push the envelope.
Carson continued, "We are very excited about having a fully compliant IEC61131-3 PLC integrated with the extensive MultiSmart feature set. The product has 1000s of tags, and SI's or end-users can now interface to these with the PLC engine. This means they can extend the capability without having to rewrite existing functions."
Scott Martin, Software Architect for MultiSmart, said, "We used the IsaGRAF implementation of IEC61131-3 because it was the most proven platform, and we chose v5 as it offers a number of advantages over v3. One example is the ability in v5 to run different 'resources', or applications, at different rates to allow more critical applications to run more frequently."
"We also added some enhancements to the MultiSmart user interface so that the user can view IsaGRAF tags on the LCD. This allows debugging and checking without needing a laptop with Workbench installed. The LCD also shows Modbus and DNP3 master and slave tags, as well as the complete MultiSmart tag database," Martin said.
v2 also includes the new DNP3 security, providing authentication of communications messages to prevent cyber attacks on water and wastewater systems. The new software also includes an export and import of Modbus and DNP3 tag lists in csv format, providing System Integrators with more rapid communications setup.
Energy costs can be reduced with a new function which runs the most efficient pump (alternation by efficiency).
v2 software can be downloaded from the MultiTrode website onto a Compact Flash card and any existing MultiSmart in the field can be upgraded.
About the company:
MultiTrode, founded in 1986, is a specialist in pump station technology for water and wastewater utilities around the world. The company has offices in the USA, UK and Australia.
Contact:
Steve Carson, Group Marketing Manager
MultiTrode
+61 413 440951
stevec @ multitrode.com
###