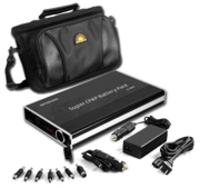 Built-in batteries may provide approx two hours of run time
Lake Oswego, OR (PRWEB) July 11, 2008
As of late 2007, Battery Geek has introduced a new line of CPAP batteries. Batteries such as the popular and universal CPAP 222 from Battery Geek Inc. allows travelers to enjoy an additional 30 or more hours per charge from their CPAP Machine equipment making travel more enjoyable and safe.
"All of our external battery packs are manufactured in our ISO 9001:2000 certified factory and are DOT and FAA approved for use in airports and on airplanes according to the DOT and FAA rules and regulations pertaining to the acceptable transport of Lithium-ion batteries effective as of 1/1/2008," says Melissa A. Murray, CO-founder and President of Battery Geek Inc.
Airborne Electronics
Each CPAP Battery is RoHS compliant and is CE and EMC certified and features internal protection against over heating, over charging and short circuit. Each CPAP Battery also includes an extended replacement warranty. They will also always clear all airport security checkpoints and will never be affected by the security x-rays. As a precaution, it is always good to check with the airline before you travel to remedy any concerns.
The problem says Murray, is that few consumers are aware until it's too late that the internal batteries in their portable medical and commercial devices have a very short charge. "Built-in batteries may provide approx two hours of run time," she reports. "That's not even enough time for any smart traveler."
These unique batteries are currently being patented in the US. Many consumers can only find these Universal CPAP batteries from the main distributor listings on their website http://www.batterygeek.us. However, they can be shipped all over the world and we are currently seeking more distributors for our global market.
About Battery Geek Inc.
Battery Geek Inc. specializes in state-of-the-art external batteries designed to give electronic devices the longest possible run time while keeping them operating at their highest performance. In addition to presenting batteries and accessories for sale, Battery Geek is committed to providing knowledge and education regarding battery power.
Site visitors are also invited to read free informational articles on battery power and to use an online form to request a free battery audit to help them determine the best power solution for a laptop, portable DVD player or other mobile device at http://www.batterygeek.us .
For more information on becoming a commercial or medical distributor or outfitting your company with custom battery solution please contact us at sales @ batterygeek.us
Contact:
Melissa A. Bostick, President
Battery Geek Inc. dba: Battery Geek USA
USA: 1-503-887-3460
http://www.batterygeek.us
###