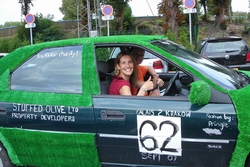 We think we've covered all the angles
(Vocus) July 9, 2008
More and more people are taking part in 'Banger rallies' - getting an old car and driving it, with a few mates, halfway across Europe. Upwards of thirty set off from the UK each year.
There are usually a huge variety of vehicles with only one thing in common - they are worth next to nothing. Typically banger rally rules don't allow you to spend more than £100 on a car that will have to go across Europe on a testing route that takes in every type of driving - from autoroute to mountain hairpin.
It's all great fun but also worthwhile, since the rallies raise many thousands of pounds for charity.
The problem comes when entrants try to insure their car. After all it's for a rally, it's usually overseas and it's likely the insurance will only be needed for a short time. Not surprisingly, most insurers aren't interested or, if the team can get cover, they find it's prohibitively expensive.
Now motoring insurance specialist HIC has introduced a short-term banger rally insurance scheme that makes it a lot easier and cheaper for the 'wacky racers' to get cover.
The HIC policy is flexible enough to cover not only the variety of cars that enter rallies but also the different amounts of time that teams want to spend on their trip. For example, the rally may last four days after which some teams will want to sell the car and fly home. However, others will want to drive back, either straight away or by taking a leisurely fortnight (or more) over the trip.
"We think we've covered all the angles," says Andy Morton of HIC. "Our policy covers just about any (road-legal) car, meets all the regulations, charges only for the amount of time that's needed and can include a team of up to four drivers. Plus, it's cheap.
"We've been able to call on personal experience in putting together the policy - several of us made up an HIC team to take part in banger rallies. The first one we did was a gruelling 1800 miles and now we're pretty confident we know the score!" he adds.
HIC has worked with several banger rally organisers to ensure the policy also covers the car for all the small print that the rally organisers tend to get worried about, which helps get the car quickly through the first hurdle - registration.
HIC is the enthusiast's car insurer with a passion for motoring that translates into great deals on car insurance. For more information visit http://www.hertsinsurance.com or call 08451 290290.
Banger rallies general.doc – June-08
Press Enquiries:
TONI TURNER OR ALISON HAYNES AT THE PUBLICITY WORKS: (01263) 761000; Email: HIC @ publicityworks.biz
ANDY MORTON OF HIC: 08451 290290
Note: Image courtesy of Motoscape, the Ultimate Banger Rally Adventure - http://www.motoscape-rally.co.uk
###