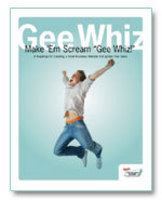 Our book Make 'Em Scream
Arlington, MA (PRWEB) July 14, 2008
Small business owners often struggle with how to create a website that delivers real business results. In answer to this challenge, online marketing firm Website Marketing NOW has released a new book to help small businesses drive lead generation, conversions and revenue growth through their websites. Make 'Em Scream "Gee Whiz!" - A Roadmap for Creating a Small Business Website that Ignites Your Sales outlines the elements that make a small business website successful.
The book is available for download to all interested small businesses at no cost on the Website Marketing NOW website.
"Many business websites are focused on themselves, the company behind the website that's trying to sell something. They focus on the company's products and services. They focus on the company's background and office locations," explains Tom Now, Marketing Director at Website Marketing NOW. "Our book Make 'Em Scream "Gee Whiz!" demonstrates how to create a website that instead focuses on the customer and the customer's specific objectives. There are many ways to thrill your site visitors, and this book shows you how, with 18 topics and 60 questions to answer when creating a small business website.
"Many small business owners feel that they are at a disadvantage, as larger companies have more money and people to throw at their websites. However, building a successful website is not about having the most resources. Instead, it's about being smart, creative and extremely customer-centric."
"Wow, this book is incredibly insightful and useful," says Randi Bussin, owner of the career coaching firm Aspire!. "For someone planning a redesign, the information and ideas here are eye-opening, especially the sections about creating a 'Gee Whiz!' experience, identifying your company's 'special sauce' and engaging with your customers on the website."
To download Make 'Em Scream "Gee Whiz!" at no cost, visit http://www.websitemarketingnow.com/marketing-library/make-em-scream-gee-whiz.html.
About Website Marketing NOW
Website Marketing NOW fixes a major gap in the small business marketing industry. Whereas small businesses have limited options for marketing advice, ranging from agencies costing thousands of dollars to free online tools that lack professional quality, Website Marketing NOW delivers customized marketing insights typically reserved for the Fortune 500 for a fraction of the cost and turnaround time. Services include customized website audits, online competitive intelligence and online customer analysis to help small businesses increase revenue, beat the competition and find new customers. For more information, visit http://www.WebsiteMarketingNOW.com.
###