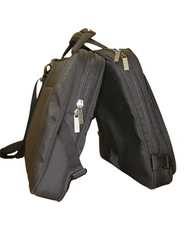 The CODi® customer intimate business model, paired with Pennsylvania-based design and manufacturing, allows us to respond immediately to industry demand and be first to market
Harrisburg, PA (Vocus) July 9, 2008
CODi®, the premier brand known throughout the Fortune 500 for the highest quality laptop carrying and tablet cases, mobile security and accessory solutions available to Corporate Road Warriors, announced today, after successful airport testing, that it plans to go to market a new checkpoint friendly laptop carrying case collection this August.
CODi® has developed a collection of innovative case solutions in response to a Transportation Security Administration (TSA) request for cases that allow travelers to pass through security checkpoints without having to remove their laptops. The collection will include traditional shoulder, wheeled and backpack case designs intended to increase security throughput, reduce travel stress and time, and help to alleviate damaged or lost laptop claims.
"We're a customer intimate organization," said Julie Bancroft, Spokesperson for CODi®, "we take great pride in realizing our customers' everyday needs as well as the challenges they face in their travels. Because we understand what it means to be a 'corporate road warrior' and are uniquely positioned with the industry's only US-based manufacturing, we were able to swiftly create unparalleled designs that will be industry-changing in the way they improve the travel experience for those who regularly navigate airport security terminals."
"The CODi® customer intimate business model, paired with Pennsylvania-based design and manufacturing, allows us to respond immediately to industry demand and be first to market", said Bancroft. CODi® plans to have their patent pending, Checkpoint-Tested™ shoulder cases ready for purchase in early August. "We plan to set the pace for the industry with our checkpoint-friendly cases," said Bancroft. "Anyone that travels with a laptop will benefit from these cases, as they'll significantly decrease the hassle and frustration of airport security checkpoints—for both the traveler and security officer."
CODi, Inc. is a trusted provider of mobile business solutions, from a complete line of light-weight, quality laptop carrying cases to mobile accessories and security solutions. Since 1992, CODi has been a pioneer in the notebook and tablet case industry, using only premium materials for durability and a lifetime of use. CODi's unwavering attention to the "corporate road warrior" ensures unique and attentive service to corporate partners and consumers.
For more information on how to buy CODi products, call 1-800-263-4462 or visit http://www.codidirect.com
###