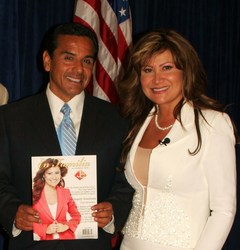 En Familia with Jackeline Cacho
Washington, DC (PRWEB) July 10, 2008
Award winning journalist Jackeline Cacho is chosen as Master of Ceremonies for the 79th Annual LULAC National Convention's Presidential Reception featuring Senator Hillary Clinton on July 11, 2008.
The largest annual event of its kind in the United States, the 79th annual LULAC national convention is being hosted in Washington, D.C., and runs from July 7 through July 12, 2008 where an estimated 15,000 political, community and business leaders are uniting in the nation's capital to discuss the impact of the Latino vote that is taking center stage at this year's presidential election.
"This election year is a true reflection of the increased mobilization of Latinos," said LULAC National President Rosa Rosales. "We are delighted to have Ms. Jackeline Cacho to be Master of Ceremonies for our Presidential reception with Senator Hillary Clinton. Jackeline is a true leader in the Latino community and we support her new TV show which will show the Real Face of Latino's in America."
Ms. Jackeline Cacho, who has most recently been selected as one of the Top 25 Most Influential Latina Women in America by Latino Leaders Magazine in it's April 2008 edition and is in development on her ground-breaking TV show entitled "En Familia with Jackeline Cacho" says, "I am very honored to be representing fellow Latinos at such an important event where our voting power in America is being recognized and promoted by the current and future leaders of this great country".
On the first day of the convention Jackeline met personally with Senator John McCain, Treasurer of the United States Ana Cabral and Mayor Antonio Villaraigosa of Los Angeles to discuss how the Latino population is not being presented properly today in the American Media and how her new TV show "En Familia with Jackeline Cacho" is a catalyst for positive change. Both leaders were very supportive and offered their support as Jackeline develops her ground-breaking show. "I am the Mayor of the most diverse Latino population in the country so I know it is very important to have the real face of Latino's presented properly in the media, and I believe that your show has the right format for today's Latino's," said Mayor Villaraigosa.
Presidential candidate Barack Obama also attended the conference and delivered a moving speech to to the LULAC conventions highly influential Latino leaders in an effort to capture the powerful Latino vote in time for the Presidential election.
The League of United Latin American Citizens (LULAC) advances the economic condition, educational attainment, political influence, health and civil rights of Hispanic Americans through community-based programs operating at more than 700 LULAC councils nationwide
Ms. Cacho's television show is currently in development and is designed to be a magnet for today's American Latino's. "We are so excited to be receiving such great support from the entire Latino community and we are working very hard to make sure that the Real Face of Latinos in America will soon be seen on American TV." Said Ms. Cacho.
In addition to being recognized by Latino Leaders magazine, Ms. Cacho is also currently Ambassador and National Spokesperson for The Peace Alliance, has proudly represented The City of Hope as Official National Spokesperson for The "La Gota De La Vida" campaign, and has also been awarded "Advocate Of The Year" from the Latin Business Association (2007), "National Television News Personality of the Year" from the Hispanic Women's Professional Association (2006), and has received many other awards and recognition throughout her vast career in media.
Headquartered in Los Angeles, Ca., Ms. Jackeline Cacho is co-founder of JC Enterprises, Inc., Finding Productions, and Sunlight Art Designs which are privately held companies focused on bringing the best television, events, entertainment, and publications to the Latin community. For business inquiries or customized sponsorship packages please contact business manager Gary Christmas at 714.915.1183 or just visit Jackeline Cacho's website.
###