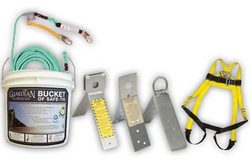 Mc Farland, WI (Vocus) July 10, 2008
Online video is becoming the primary way to inform their customers of the best safety practices in fall protection says the staff at Snugharness.com. It is also the most entertaining way to explain how safety equipment works for all construction companies and individuals using fall safety equipment on the jobsite.
The staff at SnugHarness.com began making fun observations of the fall protection equipment terms when the company launched a new website in 2006. The purpose was to demystify fall protection safety language and make it easy to understand. They want to help you comply with OSHA safety standards and be safe when working on anything above six feet above ground.
The new video showcases the Bucket of Safe-Tie. Often called compliance in a can it provides a single worker with everything he or she would need to comply with OSHA standards. The kit includes a vertical lifeline assembly, anchor points, and a basic harness. It is used as a complete fall arrest system in commercial or residential roofing projects.
When properly used a worker attaches a lifeline to dorsal D-ring on the harness. Using all the provided screws when installing Reusable Anchors,workers must attach to structures capable of withstanding 5,000lbs of impact in the direction that a fall may occur. The chest buckle must be fastened and leg straps of the harness must be worn to insure safety.

The universal harness has 5 points of adjustment for comfort and the proper fit.
The vertical lifeline includes a shock pack for fall arrest, an extension lanyard to keep the permanently attached rope grab close, and your choice of a 25 ft. or 50 ft. of 5/8 in. rope.
The bucket includes your choice of anchor point including, 5 snappy disposable anchors, 2 stainless steel reusable anchors, 1 HD Temper Reusable Anchor, and 1 SP-Anchor.
Meets all applicable OSHA applicable ANSI Z359.1 and ANSI A10.32 Standards.
Maximum worker weight of 310 lbs. including tools, clothing, etc.
The fun video approach was introduced to help make safety recommendations more lively online and explain the contents of the Bucket of Safe-Tie clearly. The approach makes it enjoyable as well as informative for construction companies and individuals looking for fall protection solutions. Visitors can find other short video features throughout the SnugHarness.com website.
Caution: All of the SnugHarness.com safety video introductions contain some humor.
Sometimes the humorous approach does not fit someone's personal style. If you object, then please do not watch or order this video. Check it out on the website: SnugHarness.com
The staff believes that they can have fun when providing serious Fall Protection Safety Gear to save your life. It just might help you or your workers to wear the equipment that will protect them while on the job and on the roof.
SnugHarness.com takes the time to group all the hard-to-find fall equipment safety products in one place. You can find the best tools, anchors, harnesses, and protective gear to make your life on the roof a whole lot safer….
Located in the heart of Wisconsin…. where a good days work is valued, the SnugHarness.com staff of experts never fall from the task. The staff delivers straight talk on what works best for you and then ships it fast. They want to keep you snug and safe…
If you'd like more information about this topic, or to schedule and interview with John Charles Steinmuller please contact us at SnugHarness.com 608-838-3300 a Division of Safety Plus Products Inc, 4123 Terminal Drive Suite 210, McFarland, WI 53558
###