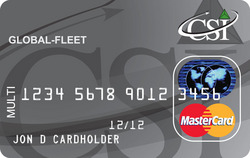 Different employees have different purchasing needs
Bonita Springs, FL (PRWEB) July 11, 2008
Controlling spending on gas and fuel is a top priority for fleet businesses of all sizes. Eliminating unauthorized purchases is a fundamental feature of the CSI MasterCard® Corporate Fleet Card, a card that saves fleet businesses up to 15% or more on gas and fuel expenses.
"With gas and fuel prices so out of control," said Keith Stone, CSI President, "fleet business managers need every tool available to limit unauthorized purchases."
The CSI MasterCard® Corporate Fleet Card gives control back to the fleet managers with an industry-leading online card control system that allows monitoring and adjustments to be made in real-time.
Each card can be uniquely controlled by setting different limits. Fleet managers may first choose the days and times a card may be used.
"This immediately eliminates any off-hour purchases," explained Stone. "By restricting purchasing to specific work hours, when drivers are using work vehicles, the chances of purchasing gas for personal vehicles is almost completely eliminated."
Next, cards may be restricted to pay-at-the-pump only to prevent convenience store purchases.
"By using the card at the pump, this eliminates any personal add-on purchases such as snacks and drinks," Stone said.
Next, fleet managers may restrict cards by daily, weekly, or monthly dollar amounts as well as number of transactions.
"Most drivers for fleet businesses create a consistent routine," Stone said. "It quickly becomes apparent what normal spending should be. By limiting the daily, weekly, or monthly dollar amount and number of transactions, any out-of-the-ordinary transactions are eliminated. However, we also give the fleet managers control to authorize emergency purchases that may go above and beyond the standard limits of a card."
Next, the type of purchase may be limited to fuel only, fuel and maintenance, or open corporate card availability.
"Different employees have different purchasing needs," Stone said. "Fleet managers may not want every driver responsible for the maintenance on vehicles and would limit the card to fuel only, while other drivers may need to be able to use their card for room and board while on the road."
Finally, the CSI MasterCard® Corporate Fleet Card is secured with specific prompts before purchases are allowed. From requiring driver and vehicle ID/PIN numbers to entering odometer readings, fleet business managers can be confident that only the intended driver is using the card.
Setting spending limits may be the most critical feature for fleet businesses to save money on gas and fuel purchases, but it is just a part of the savings opportunities the CSI MasterCard® Corporate Fleet Card has to offer.
Other money saving features include universal acceptance at nearly every filling station across the country, that's over 180,000 locations; Access to the CSI Discount Network that offers automatic rebates from nearly 25,000 retail and 1,800 truck stop fuel outlets; Access to the industry leading low-price merchant finder allowing fleet businesses to find the lowest price stations on any particular route which often saves up to $.20 or more per gallon; and consolidated reporting and bookkeeping.
"It is our job to continually find ways that help fleet businesses save money," Stone said. "We are confident that when a fleet business uses our card for their gas and fuel needs and take advantage of all the savings opportunities we have created, they will save up to 15% or more."
To learn more about the CSI MasterCard® Corporate Fleet Card, visit http://www.csi-gascard.com.
About CSI Enterprises, Inc
CSI Enterprises Inc. provides a specific line of controlled financial payment products including business fleet fueling/maintenance payment cards, a corporate virtual payment MasterCard® and card solutions for corporate purchasing, travel and entertainment spending. Today CSI and its products operate in all fifty states including Canada, Mexico and Caribbean with operating subsidiaries involved in municipal tax reclamation, venture capital and real estate development activities nationwide. Since 1988, CSI Enterprises Inc. was the first and largest U.S. organization to have a successful corporate asset management and payment network throughout the U.S. and Latin America. CSI MasterCard Corporate Fleet Card is issued by Regions® Bank. 
MasterCard is a registered trademark of MasterCard International, Incorporated.
###