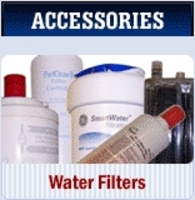 Buffalo, NY (Vocus) July 10, 2008 –-
Household budgets across the US are feeling the pain of rising energy prices. One of the main sources of energy in every home is appliances. Taking a few minutes to make sure they are running properly can help your bottom line.
The appliance that uses the most energy in almost all homes is the refrigerator. This is not surprising being that it runs 24 hours a day, 7 days a week. If a refrigerator is running poorly, it can be a costly problem for the owner.
Completing the following steps can help to reduce the amount of energy needed to run a refrigerator.

Leave a few inches of space between the wall and the refrigerator to allow air to circulate around the condenser coils.
Dusty condenser coils cause your refrigerator to work harder, leading to higher energy bills, and a shorter life for the refrigerator. Clean the coils with a vacuum, brush, or cleaner every three months to ensure it is running efficiently. If you have pets clean it every month. You can find vacuum attachments, condenser cleaning brushes, and cleaners at APWagner.com
Lower the temperature in your freezer and refrigerator. According to appliance manufacturers, the ideal temperature for a refrigerator is 37 to 40 degrees Fahrenheit, and 0 to 5 degrees Fahrenheit for a freezer.
Utilize the space in the refrigerator. A full refrigerator ensures the temperature is evenly distributed. If there is a lot of empty space in the refrigerator, fill a few containers with water, and place them in the refrigerator.
Check for holes or cracks in the refrigerator gasket. The gasket is the plastic that is between the refrigerator door and body of the refrigerator. It keeps the cold air in and the warm air out. If it is not working properly the refrigerator will work harder to keep the air cold in, which will lead to a larger energy bill.
Household energy use can also be curbed when using other household appliances.
Most of the energy used by a washing machine goes to heating the water. Wash clothes in cold water to reduce the amount of energy used.
A clogged lint screen makes a dryer work harder. In addition to that it can also become a fire hazard. Clean the lint screen after each load. Dryer vent cleaning brushes are available at APWagner.com.
Drying one load of laundry right after the other will reduce warm-up and drying times.
Appliance Repair Help and Maintenance tips can be found on APWagner.com for all major appliances including air conditioners, dishwashers, garbage disposals, refrigerators, ranges, washers, dryers, freezers, microwaves, humidifiers, trash compactors, dehumidifiers, hot water dispensers, ice makers and range hoods. APWagner.com also carries refrigerator water filters for all types of refrigerators.
APWagner.com is a consumer reports recommended website and dedicated leader in the distribution of appliance parts and accessories with 80 years experience. They service appliance dealers, service technicians and do-it-yourselfers. AP Wagner's main headquarters are located at 2205 George Urban Boulevard in Depew, New York.
For More Information:
Christine Smith
716-961-7142
csmith @ apwagner.com
AP Wagner.com
###