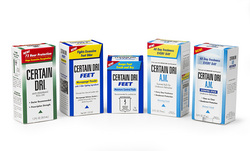 Make Certain You're Dry
Edision, NJ (PRWEB) July 10, 2008
According to two national surveys conducted for Certain Dri (http://www.certaindri.com), the number one antiperspirant recommended by dermatologists for treating excessive perspiration for more than thirty years:

Thirty percent of U.S. adults* - which translates to more than 70 million people nationwide - admit to suffering from problematic foot sweat. What's more, three-quarters of this group also battle foot odor
Forty-five percent of U.S. adults** - which translates to almost 110 million people - report that perspiration is either "sometimes" or "often" a problem for them.
What millions of Americans need is an honest, one-stop sweat control solution. But where do you start? Who can the consumer trust? Not to worry, the makers of Certain Dri, who recently took sweat-control a step further, literally, with the introduction of new Certain Dri FEET products, will help keep you looking dry and feeling fresh from "pits to toes" for a fraction of the cost compared to many other products out there claiming "clinical strength" results.
The Pit Stop:
"If you are looking for relief from excessive perspiration in a product available at the drug store, the best formula would be one that contains aluminum chloride, such as Certain Dri, which is closest to the prescription formula that dermatologists have been recommending successfully to patients for many years," explains David Bank, M.D., dermatologist and director of The Center for Dermatology, Cosmetic and Laser Surgery in Mount Kisco, NY. "A person who has axillary hyperhidrosis [excessive sweating of the underarms] may find very little relief from these newer products marketed as 'clinical strength' regardless of what time of the day they apply it, because the formulas are not necessarily strong enough," adds Dr. Bank.
Stomp Out Sweaty Feet:
"Most footwear does not allow for perspiration to evaporate naturally," explains podiatrist Oliver Zong, DPM, director of foot surgery at NYC Foot Care and attending physician at New York Hospital Downtown. "The dark, warm, moist environment of our shoes then encourages the growth of bacteria and fungi, leading contributors to foot problems, including odor, Athlete's Foot, blisters and toenail fungus.
Approved by the American Podiatric Medical Association, new Certain Dri FEET Moisture Control Pads contain 12 percent aluminum chloride, the ingredient recommended by podiatrists to help control excessive foot moisture (plantar hyperhidrosis).
Certain Dri FEET Microsponge Powder is specifically developed for people suffering from excessive foot odor, a condition known as bromhidrosis. The powder contains the patented Microsponge Delivery System that is triggered into action with heat, friction or moisture to release five odor fighting ingredients that provide several levels of odor defense:

A protective barrier that prevents air from coming into contact with moisture/sweat Dimethicone - an anti-friction agent
Two antibacterials to help prevent the formation of odor causing bacteria Triclosan - prevents growth and kills bacteria responsible for odor Chlorhexidine digluconate - kills bacteria, the source of odor
An odor neutralizer that continuously works to prevent odor Grillocin - interacts to neutralize odors
A light menthol scent that helps keep feet fresh all day. Menthol - a cooling agent which also helps mask odor
If over-the-counter options don't solve the issue of excessive sweating/odor of the underarms or feet, speak to a dermatologist, podiatrist or other health professional about a stronger prescription antiperspirant or other options available.
For more information about excessive sweating, Certain Dri products or the new "Make Certain You're Dry" blog, visit http://www.certaindri.com or http://www.certaindrifeet.com .
Methodology
*Harris Interactive® fielded the study from February 28- March 2, 2006, via its QuickQuerySM online omnibus service, interviewing a nationwide sample of 2,099 U.S. adults, among whom 1,048 indicated that perspiration is sometimes or often a problem for them
**Harris Interactive fielded the survey on behalf of Certain Dri Feet Products from February 6-8, 2008, via its QuickQuery online omnibus service, interviewing a nationwide sample of 2,015 U.S. adults aged 18 years and older.
###