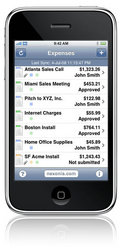 Business travelers with a lot of expenses to claim are going to love this application.
Toronto, Canada (PRWEB) July 10, 2008
Nexonia, Inc., today announced its expense report application is available on the App Store today. Nexonia's expense report application will allow iPhone users to enter and track expenses, take pictures of receipts and then submit them for approval at the touch of a button. Additionally, all expense reports, receipts and any modifications made with this native application will synchronize with the full version of Nexonia's leading web-based expense management solution.
"This is an ideal solution for business users on the go as they can complete expense reports, as well as submit pictures of their receipts using their iPhone. A one-button synchronization feature sends the expense reports for approval routing and payment. They could have their expenses approved before they've returned back to their office," said Neil Wainwright, CEO of Nexonia. "Business travelers with a lot of expenses to claim are going to love this application."
Nexonia currently offers web-based timesheet, expense report and customer service applications to thousands of users around the world. Applications are supported on all modern browsers running on Windows®, Mac® and Linux. Customizable integration with many leading accounting systems such as Intuit's QuickBooks® is also available.
Nexonia's expense report native application for iPhone is available free from Apple's App Store on the iPhone or at itunes.com/appstore.
About Nexonia Inc.:
Nexonia, founded in 2002, is a privately held company founded on the ideals of great software and great customer service. The company has a powerful blend of talented professionals with over 30 years of experience in business applications, software architecture, business management and leading-edge open source systems. Nexonia is headquartered in Toronto, Canada. For more information, visit nexonia.com.
###