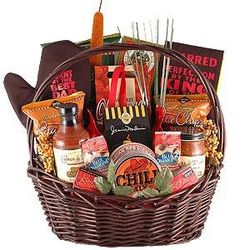 Our customers appreciate the fact that they can return months later, log into their account and order a gift basket without having to remember their recipient's address
Toronto, Ontario (PRWEB) July 10, 2008
Grenville Station Gift Baskets, a leading Canadian gourmet and baby gift baskets company since 2001, has launched a new website and shopping cart that will provide its expanding customer base with advanced features that take advantage of leading edge usability standards. The new shopping cart incorporates the same easy navigation structure as before and adds to the user experience with account creation, simplified checkout process, personal address book, and on-site secure browsing as well as real-time FedEx rate quote and transit time estimates.
"Our customers appreciate the fact that they can return months later, log into their account and order a gift basket without having to remember their recipient's address", said Laurie Guitard, CEO of Grenville Station Gift Baskets. "Our corporate clients especially appreciate being able to log into their account and review past gift purchases to avoid gifting mistakes such as sending the same gift to a recipient twice."
Grenville Station website visitors will find shopping for Christmas gift baskets especially convenient this upcoming holiday season. The new shopping cart enhances the online gift service's existing standard of sending memorable gift baskets across Canada.
Grenville Station Gift Baskets has delivered gift baskets in Toronto and across Canada for more than seven years and has developed a loyal customer base who return year after year for all of their Canadian gift basket needs. Providing personalized service and quick delivery at affordable prices, GrenvilleStation.com always goes the extra mile for its customers. Grenville Station has provided gift delivery services for law firms, dental practices, financial firms, pharmaceutical companies, advertising/marketing firms, human resource departments, the hospitality industry and many other businesses requiring business relationship building services. GrenvilleStation.com has also incorporated a new gift basket blog that provides timely and updated posts on current gifting trends and upcoming holidays as well as important gifting etiquette standards.
The Grenville Station Gift Baskets shopping cart includes enhanced features such as:

Account creation/account login and recipient address book
Electronic invoicing and online order history
Guest checkout option
Real-time FedEX rate quotes and transit time estimates
Grenville Station-based FedEx gift package tracking
Automated email updates on gift delivery status
Custom gift baskets page for customers who would like to create their own perfect gift
About Grenville Station Inc.
Based in Barrie, Ontario, Canada, Grenville Station Gift Baskets is the premier gift basket service in Canada offering secure online ordering since 2001. Grenville Station sends gifts they would like to receive themselves. From initial design conception to arrival at your recipient's door, every step in the process is carefully considered. Grenville Station Gift Baskets offers one of the best guarantees in Canada: 100% Recipient Satisfaction Guarantee!
For more information on gift baskets delivered in Canada, please visit the Grenville Station Gift Baskets website.
Contact:
James Guitard, President
Grenville Station Inc.
Toll-Free: 888-510-7467
Direct: 705-728-7158
###