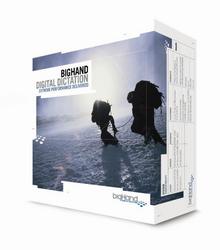 the most outstanding application of information technology to the law
London, UK (PRWEB) July 11, 2008
BigHand has today announced that national property consultancy firm Bruton Knowles has cut its annual temporary cover by over £22k as a direct result of installing the award winning BigHand Digital Dictation workflow system across its UK network of offices.
Prior to the implementation of BigHand technology, Bruton Knowles used temporary staff; on average 6 temps each costing £380 a week, for 10 weeks per year. BigHand digital dictation enables the firm's surveyors to record and instantly submit tasks, reports or instructions to secretarial resource across the firm's offices. When a secretary is on annual or sickness leave, dictations are now automatically re-directed to existing PA support, totally removing the requirement for temporary cover. As a result of the improved workflow, document turnaround times have been reduced improving operational efficiency across the business.
In the current economic environment an increasing number of property firms are implementing BigHand technology to ensure operational efficiency is at an optimum level.
Samantha Sansom, Bruton Knowles Operations Manager comments:
"When choosing BigHand Digital Dictation the intention was to drive down costs and provide a shared resource across all our offices. The introduction of BigHand was the most seamless software introduction to date.
We are finding with the BigHand system that temps were no longer needed as the system allows teams to share work across offices between secretaries, resulting in a faster document turnaround and a dramatic reduction in support costs.''
Bruton Knowles had previously used analogue tape dictation equipment, with an individual secretary transcribing up to 60 dictations per day.
Samantha Sansom who championed the switch from tape dictation equipment to the BigHand system, comments;
"I cannot praise the support staff at BigHand enough, introducing an entirely new piece of software into your business can take a while to adjust, but with constant help, advice and efficiency, they made the process a breeze".
About BigHand
A Microsoft Gold Partner & BlackBerry ISV Partner based out of Chicago, London, Sydney and Toronto. BigHand is the leading digital dictation vendor in the global professional services sector, maintaining the five largest sites at international law firms and with more legal installations in total than all other suppliers combined. BigHand3 was awarded "Best of Breed System of the Year" at the Legal Technology Awards for 2008, and nominated as 'New Product of the Year' at the LTN Awards 2008. BigHand was named as the fastest growing legal software developer in The Sunday Times Microsoft Tech Track 100 league tables for both 2006 and 2005. BigHand was also recognised by Deloitte as one of the 500 fastest growing software vendors in Europe in 2006. Additionally BigHand was voted "Best Legal Office Technology System 2004" from votes from over 14,000 lawyers and IT managers across the legal sector at the LOTIE Awards. BigHand's leading product also won the Society for Computers & Law IT Award in 2003 for "the most outstanding application of information technology to the law". Further information is available at http://www.bighand.com
###