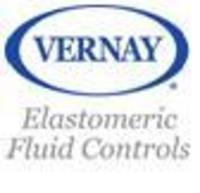 Yellow Springs, OH (Vocus) July 11, 2008
Vernay Laboratories designs and manufactures precision molded elastomeric parts. Our primary area of expertise is in the design and manufacture of elastomeric check valves for fluid control applications. Our standard product lines include a variety of check valve designs both fully elastomeric and elastomer over molded onto metal or plastic inserts. One of these product lines is a family of poppets which can be used to make valves. Both all rubber poppet designs and designs with rubber bonded to metal or plastic substrates are available.
Poppets are typically used as check valves, pressure relief valves, or regulating valves. They can be more expensive to apply than other all rubber valve designs but have several advantages that make them the desired choice as check valves, pressure relief valves and pressure regulating valves.
Some of the advantages of the Vernay's all rubber and rubber tipped poppets include:

Superior sealing and leakage prevention due to the integrally molded, permanently bonded seal and, with guided operation, the sealing point consistently contacts the seat at the same point each time allowing it to conform to the shape of the seat.
Low noise (as compared to all metal poppet designs)
Streamlined flow around the ball or cone shaped tip
Precise opening pressure control as a result of using a metal spring
Factors that should be considered when selecting a poppet valve:

The environment the poppet will work in (fluid being controlled, operating temperature, etc.)
Desired flow rate and pressure drop
Desired opening pressure
The control required (acceptable variation) of both opening pressure and flow or pressure drop regulation
Acceptable noise generation
With our advanced design capabilities coupled with our 60+ years of manufacturing expertise in elastomer molding and bonding Vernay can be a one stop source for poppet valves as well as other elastomeric flow control component needs.
About Vernay
Vernay Laboratories is proud to provide precision-engineered fluid control rubber components and assemblies to companies around the world. Vernay serves the Automotive, Medical, Office Products, Small Appliances, Small Engine, White Goods, and Specialty markets. Using our expertise in the creation of manufacturing processes, quality & environmental standards and new cutting-edge elastomeric materials, we design check valves and other fluid control rubber products that offer advanced solutions to your complex engineering problems.
###