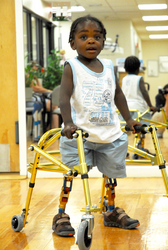 Hicksville, N.Y. (PRWEB) July 12, 2008
Harvey Parry a 2 ½ year old, double amputee from Northern London received two new above knee prostheses from A Step Ahead Prosthetics after he was unable to get appropriate prosthetic legs in England. When Harvey was 15 months old, he contracted the potentially deadly virus meningitis meningococcal septicemia. As a result of the disease, Harvey had both legs amputated above the knee and three and half fingers amputated on his right hand.
The Parry's were unwilling to accept the NHS policy of waiting until Harvey was 5 years old to receive full length legs with knees and feet. After more than a year of efforts to raise the funds to purchase Harvey's prosthetics outside of the National Health Service of England his parents, Carol and John, decided they needed to come to the United States for Harvey to be fitted with legs that would allow him to develop normally as a now healthy child. In June, Mr. and Mrs. Parry contacted A Step Ahead Prosthetics after they exhausted the prosthetic services that they were eligible for through the National Health Services (NHS) in England. The Parry's are breaking ground by going outside the NHS for Harvey's artificial legs and risking the possibility that Harvey will not be able to receive rehabilitation services based on current NHS rules.
Thanks to generous donations from many individuals in the UK as well as the Rotary Clubs in England and New York, the Parry's were able to make the trip to the US so that Harvey could receive his artificial legs. Virgin Atlantic Airways donated round trip business class airfares for the entire Parry family including Harvey's 18 year old sister. After 3 days at A Step Ahead Prosthetics, Harvey received his new custom prostheses. Harvey was so excited when he began to learn to walk with his new prosthetic legs that he practiced his skills until 3am in the hotel hallways. More information about Harvey's story including photos and videos can be found at: http://www.harveyparry-appealfund.com/
Note to Editors - Print and on-air interviews are available with Erik Schaffer, C.P., president of A Step Ahead Prosthetics and the Parry family. Photographs of Harvey are also available.
A Step Ahead Prosthetics is located in Hicksville, New York. A Step Ahead Prosthetics provides the following services: microprocessor controlled knees and foot and ankle systems, bionic prosthetics, custom sports prosthetics, upper extremity myo-electric prosthetics, the Skin Tones System (custom silicone cosmetic covers), insurance task force, coordinated rehabilitation & physical therapy, pediatric prosthetics, Team A Step Ahead, Junior Team A Step Ahead and a research & development department. For more information about A Step Ahead visit http://www.astepaheadonline.com
Contact:
Phil Kreuter
516-681-3484
phil@astepaheadonline.com
###