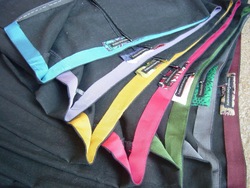 Where there is style there should also be substance
Columbus, Oh. (PRWEB) July 11, 2008
Translating the current interest in repurposing -- finding new uses for an old item -- is more than trendy for Columbus, Ohio-based clothing boutique Substance, it's simply smart business. Substance, a boutique and clothing label, is introducing an affordable, custom-fit pant through its Design Lab Collection™ - a rotating collection of clothing made from discontinued styles and overstocks.
Priced at $98 plus shipping, these elegant cotton-linen blend pants with a flattering high waist and fluidly-draped wide leg won't break the bank because they are made from a pant previously offered by the Substance label.
"We developed the Design Lab collection to show how, with a little creative modification, overstocked or discontinued styles can become unique, collectable pieces that add panache to a wardrobe," says Christina Getachew, owner, Substance, CEO of Fashion Conscious People, LLC. "The Custom-Fit Pant takes that one step further by creating an entirely new garment out of clothing we stopped offering, but still has inherent value."
The Columbus Substance store also serves as an open, creative space where customers can learn to embellish and even repurpose their own clothing through workshops. Says Getachew, "The Custom-Fit Pant brings the fun we have at the workshops into our on-line boutique environment. The customer participates directly in the design process by choosing her own design elements, like color of the pant, cuff or waistband, waistband ribbon and couture stitching."
The new made-to-order pant can be conveniently obtained from the boutique's on-line store, http://www.shopsubstance.com. Before ordering, customers will need to know their measurements. To help make sure they can measure correctly, a short video with all of the details on measurement, featuring Getachew and her staff, is available on the website and on YouTube.
The Substance custom-fit pant can be made in seven colors with four stitch colors to choose from. The pant can be designed with or without a waistband, with a cuff or straight-hem. To order, just visit http://www.shopsubstance.com/, click on Repurposed, then Custom Fit Pant. Customers may also call Substance at 614.299.2910 with questions about customizing their pants.
About Substance: Based on the philosophy, "Where there is style there should also be substance", Substance - The Clothes You Keep is a retailer of contemporary clothing and accessories for women and men, located in Columbus, Ohio. Substanc is committed to thoughtful consumption, design that wears gently on the Earth's natural resources and providing the best-fitting clothes for its customers. The Substance label uses high-quality natural fibers to create comfortable classic, affordable styles inspired directly by the needs of the store's customers. Each month, the store unveils its Design Lab Collection ™: one-of-a-kind pieces made with fabric from discontinued or overstock styles. Many of the contemporary designers carried in-store use organic fabrics, eco-friendly production methods and sustainable fibers. Substance currently has one location at 783 North High Street, Columbus, OH 43215. Its web-based retailing site can be visited at http://www.shopsubstance.com/
# # #