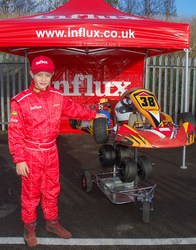 They approached us with some excellent ideas for getting good coverage in the local press
(Vocus) July 11, 2008
Eleven-year-old karter Jacques Morley of Marham, near King's Lynn in Norfolk, who is competing in the MSA British Cadet's Championship, has managed to secure a sponsorship deal with a major local company. He's now supported by Influx, the glossy motoring magazine published by Adrian Flux Insurance Services of nearby East Winch.
Flux is one of the big names in specialist car insurance. Karting can be an expensive hobby so a sponsorship deal can really help, especially with young drivers like Jacques. But they're not easy to come by. So how did he (and his family) persuade Flux to part with the cash?
"They approached us with some excellent ideas for getting good coverage in the local press," says Gerry Bucke, Operations Director at Flux. "Not just as a one-off, but as a series of editorials. It's worked, too - we've had several articles in local papers and Jacques has been interviewed by the BBC. All the coverage mentioned the Flux connection.
"Winning sponsorship these days is all about what the sponsor is going to get out of the deal," he adds. "In Jacques' case, he put up a winning argument. Plus he and his family are committed and dedicated - and they are willing to channel some of that energy into publicity, which benefits Flux."
Jacques' mum Claudia confirms that the InFlux sponsorship has been hugely important - not only for the financial support, but also because having a big name sponsor has given him a boost within the sport. "People see that InFlux is willing to back him, so they take him more seriously," she says.
While Jacques progresses well on the track, Bucke expects the Morley-Flux team to continue to win more publicity. "Karting doesn't necessarily get the coverage it deserves in the sports pages, but the local press will always be willing to look at stories of sporting achievement about local people. And karting can be very photogenic - a strong, dynamic photo can really sell the story."
Gerry Bucke's suggestions for budding sports stars on how to win sponsorship:

Put together a shortlist of potential sponsors
Think about what each potential sponsor might want from a sponsorship deal
Think of ways to achieve those aims - look at local press and don't forget that a local business might be interested in getting into their industry's business press, too
Put together a sponsor's pack, explaining what they can expect from a deal and, of course, what you want
Make sure you tailor each pack so that it appeals to the specific sponsor. For example, if the company sells caravans, perhaps they would be interested in getting the story into the caravanning press.
Don't ask for too much - think about what coverage you might get and what that would be worth to the sponsor.
"Once you've got the sponsorship deal, make sure you follow through," Bucke advises. "Keep sending material to the local media - try to find out the names of the local journalists and keep them informed about how you're doing. Try to get good photos and make sure they show the sponsor's logo - and if you're interviewed, don't forget to mention the sponsor's name!"
Find out more about Jacques Morley and follow his progress at http://www.jacquesmorley.com
Influx magazine covers motoring in all its beautiful, unusual or frankly bizarre varieties, with stunning images and evocative articles. It is published by Adrian Flux Insurance Services for the company's customers. Digital editions of Influx, plus extra online content, can be viewed at http://www.influx.co.uk
Adrian Flux Insurance Services aims to offer cheaper car insurance and has a huge range of policies for the motoring enthusiast. For details call the free quote line on 0800 505 3000, email the company at quotes@adrianflux.co.uk, or see the Flux homepage on http://www.adrianflux.co.uk
PRESS ENQUIRIES: Jacques Morley sponsorship - for karting media.doc– Jul-08
Toni Turner or Alison Haynes at The Publicity Works
Tel: 01263 761000 Email: flux @ publicityworks.biz
Gerry Bucke of Adrian Flux Insurance Services: 0800 505 3000
###