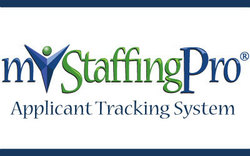 Lima, Ohio (PRWEB) July 14, 2008
myStaffingPro, a leader in applicant tracking,has added new Web 2.0 functionality into their clients' career search screens. The free enhancement expands upon the applicant's current ability to sign up for a career RSS feed.
The RSS feed enables prospective applicants to sign up and receive new job positings directly on their feed reader or Google homepage. This feature provides one-click access to review a newly opened position and apply without having to manually visit the client's career search screen.
myStaffingPro has taken Web 2.0 a step further by adding the "Share Opening" functionality to the job description. This enables applicants to easily share and distribute a job opening with friends, colleagues, and relatives. The applicant can select from over 30 services to share the opening, including: MySpace, Facebook, Reddit, Digg, and Twitter.
"myStaffingPro is dedicated to reaching job seekers in the next-generation Web. The new Web 2.0 functionality provides savvy applicants with a cutting edge platform to share posted job openings," said product development manager Jennifer Brogee.
The Web 2.0 functionality is immediately available to all standard myStaffingPro clients free of charge.
For additional information on myStaffingPro's Web 2.0 functionality, contact Julia Friemering at 800-939-2462.
About myStaffingPro
myStaffingPro® is a web-based applicant tracking system with nearly ten years of experience. Clients of myStaffingPro® consistently give high ratings for flexible user functionality, unmatched prescreening, superior support, advanced reporting, and virtually "zero" down time. The system is available in three solutions to accommodate clients of any size or hiring process. myStaffingPro® is currently delivering the hiring process for over 400 clients and has processed over 11 million applications.
About HR Services Inc.
HR Services Inc. is a leading Human Resources software company serving businesses nationwide. The company's product line features the myStaffingPro applicant tracking suite, as well as the DialApp interactive voice response system.
Media Contact:
Julia Friemering
800-939-2462
juliaf @ mystaffingpro.com
This press release was distributed through eMediawire by Human Resources Marketer (HR Marketer: http://www.HRmarketer.com) on behalf of the company
listed above.
###