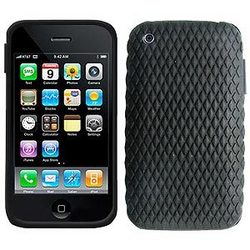 This is just the start of the line for our cases and accessories for the new iPhone 3G
Houston (PRWEB) July 14, 2008
Amzer comes out with 2 exclusive top of the line cases for the new iPhone 3G available only at http://www.Fommy.com .
"This is just the start of the line for our cases and accessories for the new iPhone 3G," according to Pallavi Dinesh, Chief Operations Office for the company. "First of all, your regular skin type of case is still going to be popular among the user base because it is easy to slip on and very interchangeable. We've done our 'Jelly' version of it and it has great grip for comfort of use whether you're talking on the phone or browsing the web."
Amzer® Jelly Case for Apple® iPhone™ 3G is available in Black, White, Gray, Pink, Purple, Red, Blue, and Clear. The case is made out of 100% premium silicone with a flexi-grip pattern on the back for an easy grip. The Amzer Jelly Case is a 'must-have' for all iPhone 3G owners especially because the revolutionary techonology keeps dust away from the case and more importantly the material is smooth not sticky as with other types of skins. The FlexiGrip provides you with a lasting grip on your device and exact cutouts allow speedy access to critical controls.
The other new case is the Rubberized Snap-On Case. Amzer® Rubberized Snap On Case for iPhone™ 3G are hard cases available in 3 vivid and contemporary colors - Blue, Red and Hot Pink and give you the best of both worlds. They are soft to the touch but have a hard plastic shell for great protection for your new iPhone 3G. The Rubberized Snap-On Case combines a hard plastic shell with a thin layer of soft rubberized material giving your iPhone 3G a great stylized look with the safeguard of solid protection. The smooth surface provides you with a lasting grip on your device and exact cutouts allow speedy access to critical controls.
Both these cases are available exclusively at http://www.Fommy.com . In addition, the website is also carrying a full range of great Belkin accessories for the iPhone 3G including Cases, Chargers and Docks. Look for more Amzer and Belkin accessories to be made available in the next few weeks at Fommy.com. All products are in stock and ready to ship today.
About Fommy.com:
Fommy.com is the #1 global provider of smartphones, cell phones, and accessories. Moftware (moftware.com) is the parent company for Fommy.com with operations in USA, UK, & India. The company has four divisions - retail, wholesale & distribution, manufacturing, and services. This makes the company well positioned towards further growth and sets us apart from our competitors since no other company has such an infrastructure in place.
Press Contact:
Charles Lyons, Ph.D.
1.866.290.5798 x 712
Pallavi Dinesh
1.866.290.5798 x 701
###