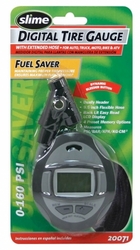 Vehicle safety is of the utmost importance to Slime, and properly inflated tires decrease the chances of tire failure. Checking the tire pressure cannot be done just by looking at your vehicle's tires. An accurate tire gauge is necessary
Grover Beach, CA (PRWEB) July 15, 2008
Want to save gas? When was the last time you checked the pressure in your vehicle's tires? According to a Goodyear study, just 5 to 7 PSI under-inflation can cause up to 10 percent increase in fuel consumption. People often (incorrectly) confuse the recommended tire pressure with the maximum tire pressure which is what is listed on the sidewall of the tire. Motorists should check for the vehicle manufacturer recommended tire pressure, which can be found on a placard on the driver's door-jamb or in the owner's manual. Use a tire gauge and maintain proper tire pressure during every fill-up - the easiest way to save gas.
Accessories Marketing, Inc. (AMI), creator and manufacturer of Slime® tire sealant products, recently added the Slime Extended-Hose Digital Tire Gauge to its full line of tire care products to help motorists accurately check tire pressure on a regular basis. The timing of this introduction couldn't be better since properly inflated tires not only increase tire tread life, improve safe driving performance but also increase fuel efficiency - something all motorists are looking for right now with the escalating gas prices.
In a 2006 nationwide Rubber Manufacturers Association (RMA) survey, motorists ranked tire care among the top two maintenance practices needed for vehicle safety and condition. However, checking tire pressure is a routine that is rarely performed and the RMA study results showed that only one out of seven motorists correctly checks tire pressure. The National Highway Traffic Safety Administration conducted a similar survey which revealed that one in three cars has under-inflated tires. According to the Rubber Association of Canada, properly maintaining tires saves the average driver the equivalent of two weeks worth of gas. Other benefits include the reduction of greenhouse gas emissions released into the environment and cost savings because the life of a tire is prolonged with regular routine maintenance.
"Vehicle safety is of the utmost importance to Slime, and properly inflated tires decrease the chances of tire failure. Checking the tire pressure cannot be done just by looking at your vehicle's tires. An accurate tire gauge is necessary," explained Slime Marketing Director Joe Bowman. "With the introduction of the new Extended-Hose Digital Tire Gauge, Slime is providing motorists with a precise and easy-to-use gauge - keeping motorists on the road and worry-free."
The Extended Hose Digital Tire Gauge provides users with many features, including: a dual head chuck and 9.5-inch extended hose for hard to reach valve stems, a pressure relief valve for quick pressure adjustment, and a backlit LCD display for nighttime use. The product has a reading range of 0-160 PSI. Additionally, the gauge has a memory feature that allows individuals to save the recommended pressure levels for up to four vehicles. Each time the gauge is used, the memory card can be referenced to ensure that the current tire pressure matches the saved ideal tire pressure. The suggested retail price is $16.99, and the gauge comes with a one year free replacement warranty.
In addition, Slime offers a variety of digital, dial and other pencil tire gauges. Slime has also patented the only mini, magnetized tire gauge, which adheres conveniently to the inside of the fuel door to remind users to check tire pressure each time they fill their vehicle with gas. Please visit Slime online for more information on the full line of tire gauges.
Slime products are available at most auto parts stores, including: AutoZone, Advance, CSK Auto, Meijer, Napa, O'Reilly Auto Parts, Pep Boys, and Tractor Supply, as well as Harbor Freight, Home Depot, Lowes, Tex Trails Trailers, and Wal-Mart. Visit the online store to locate a nearby Slime dealer.
About Accessories Marketing, Inc.:
Accessories Marketing, Inc. is the leader in flat tire prevention and repair. The Slime brand patented sealant is the most widely distributed liquid sealant in the world. The company's products are distributed in more than 36 countries and sold at more than 60,000 retail distribution points worldwide. Slime is the preferred tire sealant of the American Automobile Association (AAA) keeping members on the go. With distribution facilities in the United States, Europe, Australia and Asia, major OEMs in the automotive, motorcycle and bicycle markets have come to rely on Slime sealant to prevent and repair flat tires. Accessories Marketing, Inc. is an ISO 9001:2000 manufacturer. The Slime formula is manufactured in-house using automated technology and undergoes regular product testing to ensure reliability. Accessories Marketing, Inc. ranked No. 75 on the list of top companies in the Consumer Products category and No. 2,293 overall on the 2007 Inc. 5,000 list of the fastest-growing private companies in the country.
###