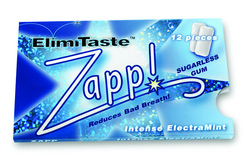 What we have clearly seen over the past 2-3 years in particular, is that most of our business is coming from word of mouth. People talk about good products. Whether it's a dentist or hygienist telling his or her patients, or a health conscious parent sharing the product with friends and family, people are telling people about ZAPP! Gum
Signal Hill, CA (PRWEB) July 15, 2008
Premium Chewing Gum Manufacturer ZAPP! Brands today unveiled its long awaited distribution platform that empowers its thousands of existing customers and distributors, along with new customers and distributors alike, to participate in the exponential growth of its health conscious brands. ZAPP! Brands, primarily known for its 100% Aspartame Free and Sugar Free chewing gum line, is taking its word of mouth marketing success to a new level. Sweetened exclusively with 100% Natural Xylitol, ZAPP! Chewing Gum has been the leader in mainstream, healthy chewing gum production since 2002.
"What we have clearly seen over the past 2-3 years in particular, is that most of our business is coming from word of mouth. People talk about good products. Whether it's a dentist or hygienist telling his or her patients, or a health conscious parent sharing the product with friends and family, people are telling people about ZAPP! Gum," commented Founder and Principal Matt Willer.
ZAPP! Gum is the first and only mainstream chewing gum that is Free of Sugar and Artificial Sweeteners like Aspartame, but also sweetened exclusively with 100% Xylitol, which is proven to help prevent cavities. Having been on the market since 2002, ZAPP! Gum is now enjoyed by health conscious consumers in over 30 countries around the world.
"We have never used artificial sweeteners or sugar. While studies around the globe question the side effects of artificial sweeteners, we are yet to see a study that says they are good for you. Our philosophy is simple, if you don't have to consume Aspartame or other sweeteners you can't pronounce, then why would you?" commented Chris Armato, V.P. of Operations.
ZAPP! Gum uses only 100% all natural Xylitol to sweeten its 5 award winning flavors of gum. With over 1 gram of Xylitol per piece, ZAPP! Gum has become a household name in the dental and medical communities for its proven ability to help prevent cavities. Additionally, ZAPP! Gum has gained notoriety for its innovative flavor offerings and mainstream appeal. Through its well established Medical and Dental Channels, ZAPP! Brands began Beta Testing its Network Marketing Platform in May of 2008.
"We couldn't be more excited to formally roll out our network marketing opportunity in the United States. For 6 years, our partners and our customers have helped us grow exponentially simply by talking about our product to friends, family, patients and colleagues. We have seen the power of word of mouth, there is no more effective means of marketing. Our new platform harnesses that word of mouth medium and empowers all of our stakeholders to take part in growing 'Their gum company'," Willer acknowledged.
With well over 200 million gum chewers in the North American market alone, the company sees unparalleled growth through its Network Marketing launch. The company also acknowledges that the growing trends of health conscious consumption and online ordering have made the 2 largest mainstream chewing gum manufacturers less of a competitive force than they would have been a decade ago.
"Our messages and our philosophies are simple. If you could chew gum that costs about the same per pack as what you already chew, and it was free of sugar and artificial sweeteners, and it could help prevent cavities, then why wouldn't you switch to that gum? Couple that with the fact that now you can build your own business around the product line and the message becomes even more powerful. Chew gum; tell friends, make money, it's that simple."
ABOUT ZAPP! BRANDS
ZAPP! Brands is a specialty developer and manufacturer of premium, healthy consumer packaged goods. The company's flagship line, ZAPP! Gum, is the first and only mainstream chewing gum that is 100% Sugar Free, 100% Aspartame Free, and Sweetened with 100% All Natural Xylitol. The company maintains two facilities in Southern California and has multiple additional products in its pipeline. To learn more about the company, their product lines, and the opportunity, please visit http://www.ZappGum.com or call (888) ZAPP-GUM.
# # #