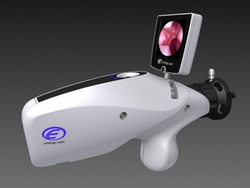 Rockville, MD (PRWEB) July 18, 2008
Envisionier Medical Technology today announced the appointment of David Guy to the role of President and Chief Operating Officer. Mr. Guy, 39, will be responsible for the strategic and operational leadership of Envisionier and will manage sales, marketing, business development and will report directly to Envisionier's CEO and Founder Patrick Melder M.D.
Guy most recently served as Director of Specialty Sales for Gyrus ACMI – Olympus Corporation. As Director of Specialty Sales, Guy reported directly to the President of the Otolaryngology division and was responsible for Radio Frequency medical devices for sleep apnea and facial plastics. Before rejoining Gyrus ACMI, Guy served as VP of Sales and Marketing for Applied Medical Physics focusing on introduction of advanced of medical office diagnostics (Computed Tomography and Video Stroboscopy) into the U.S. Otolaryngology Markets while developing and managing sales channels.
About Envisionier Medical Technology:
Endogo turns every endoscope into a video documentation system. The endogo® Portable Endoscopic Camera is the world's first battery operated, portable, hand-held endoscopic video camera with integrated viewing and archiving capability. The endogo® can be used with current optical flexible or rigid endoscopes in any clinical setting requiring simple, inexpensive, and easy to use video endoscopy with/without archiving the examination. As more minimally invasive surgical procedures are preformed in physician offices, the endogo® answers an unmet need for portable visualization and documentation in endoscopic procedures.
Contact:
Normand Croteau
888-363-6461
Envisionier Medical Technology
155 Gibbs St. Suite 413
Rockville MD 20850
http://www.endogo.com
###