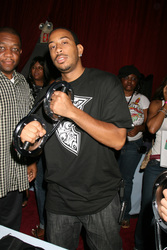 Redford, MI (PRWEB) July 13, 2008
From the A-list lounge of a swank Shrine Auditorium gifting suite to an all-star sports gala at the Playboy Mansion, celebrities are fast becoming the biggest fans of a new asymmetrical barbell system called the Burn Machine.
At the recent 2008 BET Awards, some of the music industry's biggest names, including Ludacris and TLC's T-Boz, happily felt the burn in their muscles as they put their new equipment to the test; Grammy-Award winner Rihanna and her personal trainer were so impressed with the barbell that the young singer made a special trip back to the gifting suite specifically to thank and hug one lucky Burn Machine representative.
"She couldn't wait to use it," said Burn Machine associate Laura Lee. "She said she needed a unit to take with her to the gym that same night, so I showed her a few more moves and sent her off with a Speed Bag in hand."
But celebrities aren't the only people raving about the new barbell system; Designed with a revolutionary 3-pound, sliding chrome counterweight, athletes and celebrity trainers are touting the benefits of the barbell's asymmetrical workout as a revolutionary approach to core conditioning.
"The proper use of the Burn Machine actually makes it easier to put a functional twist to exercises, challenging the core in an integrated way," said Chris Hoffman, a performance enhancement specialist who trains Olympic athletes and weekend warriors alike at AIM Sports Medicine in Southern California.
The Burn Machine and the Burn Team will continue to make stops around the country at various fitness industry trade shows including the Health and Fitness Business Expo in Denver, Colorado, July 16 and 17. Among the highlights of the event will be the Burn Machine's participation in the expo's Early Morning Workout, where international industry buyers will be able to try out the latest in fitness equipment by select exhibitors.
About Burn Machine, LLC
Burn Machine, LLC, is a manufacturer and distributor of health and fitness equipment. Their goal is to give people the tools to create better lives through better bodies. The company's flagship product line is the Burn Machine Asymmetrical Barbell System, made up of the Speed Bag, available in 8 lb or 12 lb models; the Cross Trainer, available in 12 lb or 20 lb models; the Universal, available as a 22 lb model; and the Ultimate Burn Machine, available as a 46 lb model. All units feature 360 degree rotating grips and each of the barbells features a patented sliding asymmetrical "burn" weight.
Contact:
Ofelia Saenz, director of marketing,
Burn Machine, LLC,
313-794-2876
http://www.theburnmachine.com
# # #