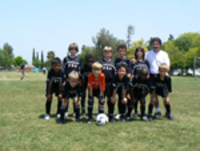 Winning is not the only thing and should not be the focus for youth players; however it is important ONCE IN A WHILE
Atlanta, GA (PRWEB) July 14, 2008
If you've ever been around youth soccer, or any youth sport, you have heard and understand the phrase, "It's not about winning, it's about having fun." Well make that statement to this group of 9 and 10 year olds and you might just want to have an exit plan ready.
This Northern California, PSA U-9 boys soccer team had a rough season last fall. A surprisingly talented group of kids with big hearts, they just couldn't seem to pull it together. Their season ended with 0 Wins, 9 Losses, and 1 tie.
The boys were talented and their coach was dedicated. A former professional soccer player and former coach from the National Premier Soccer League, he worked hard with the players and they gave it a good run. However, a season of no wins takes its toll on players, parents, morale and even the coach. The boys end up scoring 8 goals but had 38 scored against them. Needless to say, by the end of the season there was an atmosphere that was not great.
Team manager Victor Nemecheck said, "After suffering through a season with no wins and several humiliating losses, we had about half of the parents bitterly complain about the coaching, the refereeing, and eventually pull their kids from the team. Even though the kids had developed quite a bit and had lots of fun at practices and most games."
During their "off season" winter training they realized that the boys simply were having trouble putting the ball on goal with any power and accuracy. Their field work was good and they played well as a team. They tried working on drill after drill and saw only minor improvement. However it wasn't until Nemechek stumbled upon http://www.BlastTheBall.com that he saw the "light" that could really help.
"We didn't really know the best way to solve all of these problems and so I started doing Internet searches for any tips, tricks, or techniques that might help us. I soon discovered the Blast the Ball web site and after reading some of the success stories and watching the preview I thought it was exactly what we needed.
"The coaches and I watched the video and decided to incorporate one or two of Coach V's Blast the Ball lessons or drills into every one of our practices. We started at the very beginning and worked our way through most of the video," said Nemecheck.
Well, spring rolled around and it was time to try what they had learned. We are proud to report that the boys took first place averaging over 4 goals per game.
"This spring season, I witnessed both parents and kids get energized and excited after winning their first few games. Parents were friendlier to each other, volunteered to help more, and wanted the get the team together outside of soccer. The boys were also nicer to each other and more forgiving of each others' mistakes. Although parents and coaches of young boys will publicly state that the most important goal is for the kids to have fun and develop their skills, which I agree with, I strongly believe most parents (and kids) join a competitive level soccer team to train, compete and win. Failing to do so can cause low morale and anger in both the parents and kids.
"Winning is not the only thing and should not be the focus for youth players; however it is important ONCE IN A WHILE," said Nemecheck.
Youth sports are designed to be fun and build a love for the game. Kids learn skills, mature as individuals and build social skills that simply can't happen in front of a TV. It seems that this team has learned a valuable lesson. Hard work, blended with PROPER training, is VERY rewarding. Learning from the losses hurts, but makes the victory all that sweeter.
Blast The Ball is now selling in every country in the world. Soccer teams, parents and players from Australia to Canada to Germany are using the knowledge to improve their teaching methods. The DVD series can be ordered through their website at http://www.BlastTheBall.com.
# # #